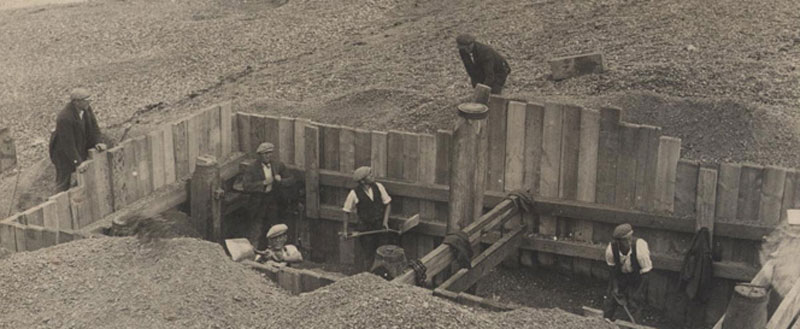 An historic reputation built on firm foundations
The Mackley business was established in Shoreham By Sea in 1927 by John Thomas Mackley (below) after he had gained considerable design and contracting experience in London, South Wales and Southampton, and served as a Royal Engineer Staff Officer during World War 1 in France and Salonika.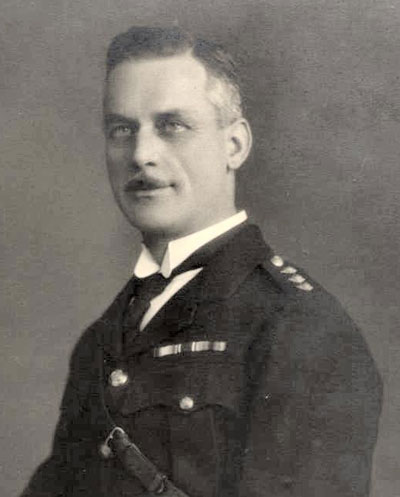 In 1931 the company was registered under the Companies Act and became known as J T Mackley & Co Ltd – Supervising Engineers and Contractors.
Between 1927 and 1940 the company became acknowledged in Southern England as a pioneer and specialist in interlocking steel-piled construction for wharves and cofferdams, and sixteen wharves were built at Shoreham Harbour, which represented 60% of all available wharfage. During this period the firm branched out to general civil engineering work including water and sewage works construction, all with emphasis on technically challenging projects, just as it is today.
During the wartime period of 1940 -1945 the company was employed principally on essential defence works and bomb damage. The conversion of numerous Thames barges into small landing craft was undertaken at Shoreham and Poole Harbours. The barges were fitted with engines, steering and landing ramps and were used initially for the Dieppe Raid of 1941 and the D-Day Landings.
In the post-war years as both steel became more available, and the labour shortages subsided, J T Mackley & Co Ltd was able to carry out construction of deep water wharves and re-face old wharves to facilitate deeper dredged levels.
In the 1950s the company's founder handed down the day to day management of the firm to his eldest son J R (Jack) Mackley who took day to day control of the firm. His younger brother F R (Frank) Mackley was appointed Director of Engineering and Development under the guidance initially of his father. In 1979 Jack Mackley stood down as Managing Director and his son John took up the role, the third generation of the Mackley family to head up the business. John stayed in this role until 2003 when Tony Camilleri was appointed Managing Director – the first non-Mackley at the helm. Like his father and grandfather before him, John remained in an active role as Chairman for a number of years, and in John's case, until 2014 when the company was sold.
J T Mackley & Co Ltd is now a member of the Van Oord Group of Companies and continues to provide innovative solutions, quality and expertise in niche construction markets.
---
J T Mackley & Co Ltd takes pride in its history of innovative landmarks
1957
The 'Mackley Monster' was conceived, a special transitional piling rig for the construction of a 1.4m diameter sea outfall pipe, which extended 600 metres out to sea. This rig built its own gantry structure and drove the pipe support trestles by a patented air/water piling system.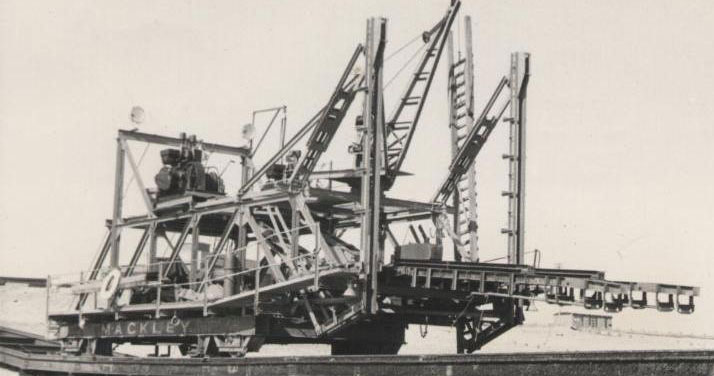 ---
1960
Mackley can still claim to be the first in the world to design and construct a sea outfall pipe made of uPVC plastic. This utilised special concrete saddle anchorages over a length of 0.8km.
---
1967
Mackley followed this up with the first large bore pipe which was nearly one mile in length.
---
1970
The design and construction of a special hover platform was carried out, initially as an experiment to carry out works on marsh lands and marine environments; this was the pre-runner for various platforms which were subsequently constructed.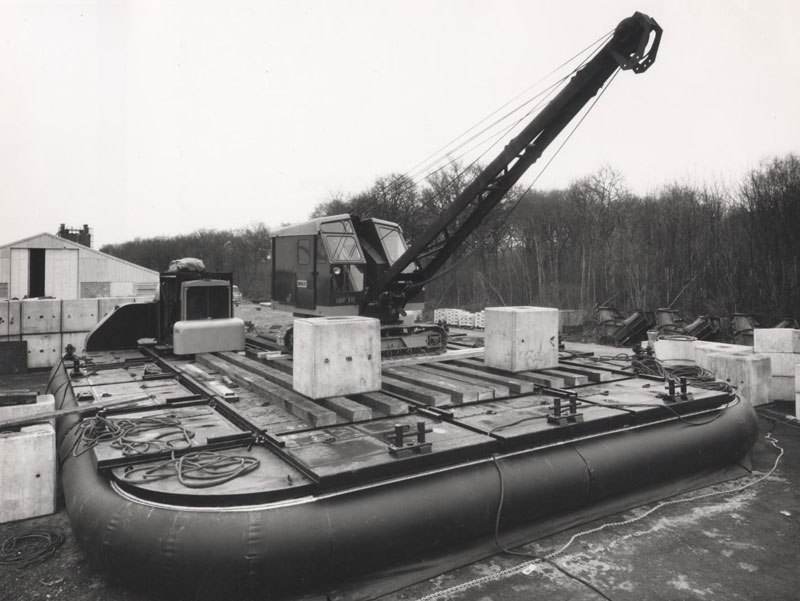 ---
1975
The largest hover transporter in the world was constructed to carry gas plant assemblies from Abu Dhabi to Das Island in the Middle East. Other air cushion developments have included the crossing of the Yukon River in Alaska for carrying materials for the Trans American Pipeline, and construction of a hover cutter suction dredger.
---
Mackley's innovative record also includes the development of steel silos for clinker storage constructed from straight web steel piles. Silos of up to 28 metres in height were built throughout the UK and as far afield as New Zealand.
Mackley also imported the first Larssen steel sheet piles into the UK and pioneered their use. The first structure built using the piles was the North Wish Wharf at Aldrington Basin, Shoreham Harbour prior to WWII.