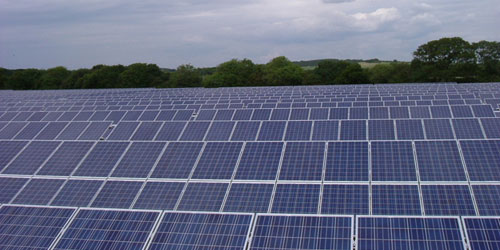 Mackley have constructed a number of solar farms in the south of England and Wales to improve the renewable energy resources available locally. The growing need for more renewable forms of energy supply has seen an expansion in the number of solar farms. With a lifespan of approximately 25 years solar farms often serve a dual purpose as animals can continue to graze in between the arrays.
Mackley have experienced teams who undertake the civils works for the Solar farms. These teams provide an efficient and effective service specialising in the construction of ground works and access routes.
Durrant's Solar Farm
On the Isle of Wight, this solar farm covers three agricultural fields with a total area of 13.2 hectares and comprises of over 750 mounting frames, each with an array of 30 solar modules in rows running East-West.
Mackley were involved with the digging of trenches for the cables to connect the solar modules with the main transformer-inverter units.
The civils work was followed by the assembly and mounting of the frames themselves and finally the solar pv modules being mounted on to the frames.
Wellow Solar Farm
Mackley were contracted to construct the access roads, infrastructure and transformer/inverter bases at Lee Farm on the Isle of Wight.
This 5mw solar farm has approximately 22,000 panels. Due to the proposed reduction in feed in tariff, the site had to be producing electricity by the end of July 2012. This was achieved despite the atrocious weather throughout that summer.
Langunnett Solar Farm
This solar farm near Lerryn, Cornwall, comprised of over 1,000 mounting racks each with an array of 24 solar panels. These are arranged in rows running East to West covering 24 hectares. The project involved: the construction of a temporary road and compound, trench work, ground preparation and bases for the inverter and transformer stations, fencing and gates.
Oving Solar Farm
Near Oving, Chichester this project involved the construction of the access roads, infrastructure and site compound. It also involved construction of temporary roads, hard standing, trenches and the removal of excavated soil.
Pembroke Solar Farm
This solar farm was in South Wales and involved the civils works for an 11MW solar farm. The civils included the construction of temporary hard standings and a compound
Fareham Solar Farm
This 27ha solar farm on land at Newlands Farm, Fareham, Hampshire, was built to generate renewable electricity for 5,000 households over its 25 year lifetime.
This project involved:
earthworks, including digging trenches for the cables
the driving in of steel piles used to support the steel/aluminium frames that hold the solar PV modules
The laying of temporary surfaces for site access and the creation of grassed buffer strips