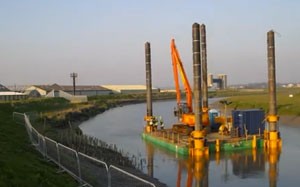 Dartford Creek is the tidal section of the River Darrent. The creek has a natural river channel although its course has been constrained by the construction of flood embankments.
Erosion is occurring on the outside of the river meanders which has caused numerous slip failures in the river banks and of the flood defence embankments. The objective of the works was to maintain the integrity of the flood defence embankment along two sections of the west bank and to provide environmental enhancement through the creation of salt marsh habitat.
To maintain the integrity of the flood embankments steel sheet piles were driven to stop the erosion of the embankments on the outside of the river bends. Brushwood faggots were laid between brushwood stakes. During periods of slack water silt was deposited between the spaces in the brushwood which is then trapped and cannot return to the water. Over a period of time the brushwood faggots will become completely buried not only aiding embankment stabilisation but creating new salt marsh habitat.
Given the environmentally sensitive area, traditional working methods were unavailable and the works were carried out entirely from the flood embankments and from over the water from our jack up platform using a long reach excavator. The brushwood faggots were laid at low tide so our experience of tidal working and the management that is required for this was invaluable. Challenges of restricted access were overcome and close community liaison was paramount on this project.