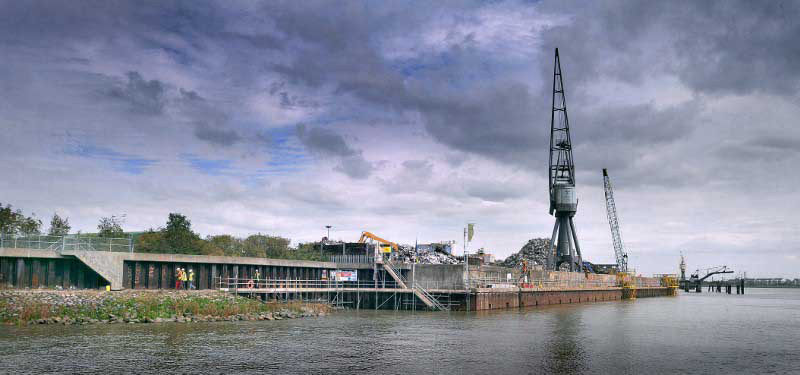 The Seabright frontages are located at the confluence of the River Thames and Barking Creek. The frontages form part of the flood defence structure which protects the Barking and Dagenham embayment. Seabright is a working wharf which is used as a scrap metal yard.
The site consists of 180m of welder steel plate sheet pile repairs. The plates have been designed to provide an additional 25 years of life to the frontage. The plates are only welded on the top 3m of the frontage and the void then filled with concrete.
At the rear of the existing flood wall, two relieving platforms were formed using 20no CFA piles together with ground slab. The purpose of the platforms is to take the weight of the piles of scrap metal, stored on the site, and prevent the load coming onto the front steel sheet piles.
On completion of the steel plating works, oak fenders will be connected to the wall.
Innovative thinking
To access the works the project team designed purpose made gantry platforms. These platforms were mounted on tracks and could easily be moved to any part of the frontage, while giving full access to all levels of the face of the sheet piles. This flexibility allowed the landowner to continue his operations with negligible delays to the works, thus reducing the client's risk budget.