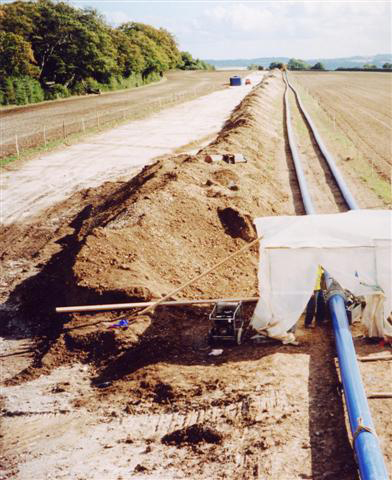 Testwood Water Treatment Works is the major process plant for the Southampton water supply. Water is drawn from the River Test and treated prior to distribution to the area.
To increase the throughput of treated water, Southern Water required major changes in the treatment process. Process contractors worked alongside our team to install new plant, dosing installations and control systems.
The existing site development presented challenges to the positioning of the large reinforced concrete tank – some 70metres x 40 metres - that was to be constructed below ground.
To construct the tank, pipe lines up to 1200mm diameter had to be diverted and a temporary sheet piled cofferdam built to cut off the ground water. Once excavation within the cofferdam was complete, the reinforced concrete tank was constructed. The tank included a series of baffle walls to lengthen the flow path during the dosing process.
The treatment works remained operational throughout the contract. Final connection of the pipelines was carried out during low flow periods when by-pass pipelines could be utilised.
Michelmersh to Broughton Transfer Mains
A second project for Southern Water, valued at £1.7m, was for the Michelmersh to Broughton transfer mains. This involved the butt fusion of twin pipelines prior to laying and the reinstatement of easement following final testing and swabbing. The project was some 10km long, passing through the Test Valley, residential and agricultural land.
Archaeological surveys were conducted ahead of the pipe laying, and where digs proved of interest we re-programmed the pipe laying activities to give archaeologists more time to work in specific areas.