Why choose Mackley?
At Mackley we are passionate about supporting the next generation of the construction and civil engineering industry.
With exciting plans for growth and expansion already being realised, we are always looking for people with the ambition to further their career and help continue to drive the company forward.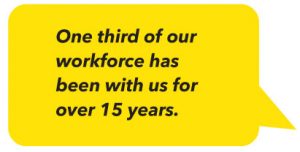 We pride ourselves on our heritage and family run work ethos. With our continued commitment to equality, diversity and inclusion we have created a fair and respectful place of work. We believe that by looking after our team, providing the  skills and support wherever we can, our employees can excel at what they do. The length of service of our workforce is testament to these principles with many of our senior management boasting over 30 years at the company.
We are dedicated to the development and training of individuals and teams that strive to exceed expectations, proactively engage and interact with local communities, and hold environmental awareness in the highest regard. Our accreditation to  Investors in People ensures you will be supported with training and promotion opportunities at all levels throughout your career with us.
Our contracts are varied and our projects range from infrastructure and regeneration to marine and coastal defence works, providing you with the opportunity to gain experience across a broad range of civil engineering disciplines.
---
Current Vacancies
Click here for a list of current vacancies
If you are interested in one of these vacancies and would like to join our team, please send your CV to: recruitment@mackley.co.uk
---
Starting out on a career?
Don't go just yet - see how Mackley can work for you...
At Mackley, we nurture young talent through work placements. Once on board, we will support you every step of the way with focus on continued professional development and professional memberships.
Click here to find out more...