Mackley is completing a 7.2km flood defence scheme in Shoreham to protect 2450 residential and commercial properties. The aim is to strengthen and improved the flood defences on both sides of the river. The scheme runs through the centre of the town, in some places within 5m of residents' front doors. Our community outreach has therefore been integral to the success of this project.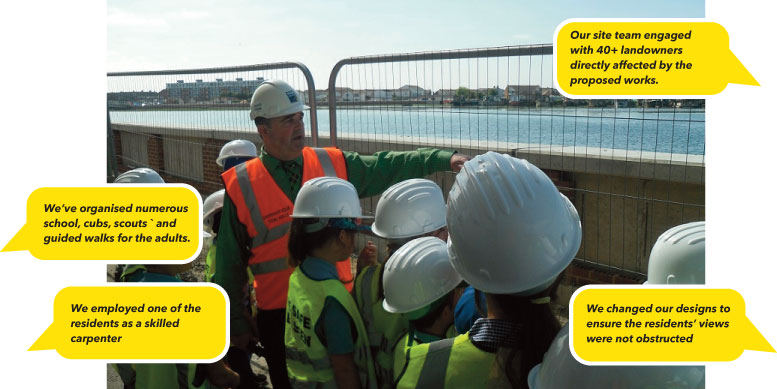 Key points
A Public Liaison Officer has been specifically assigned to this project
Our site team engaged with 40+ landowners directly affected by the proposed works
We've organised numerous school, cubs, scouts visits and guided walks for the adults
Our PLO runs a multi-media campaign and attends fairs, exhibitions and residents' meetings
After meetings with the residents, their feedback was incorporated into our designs
We produced 3D visualisations to illustrate our plans
Our Visitor Centre is equipped with a DDA accessible ramp and children's toys and is open daily
We employed one of the residents as a skilled carpenter
Our team has been involved in many local charity events including Sightsavers, Breast Cancer, Shoreham Beach Clean up & we sponsored a dog from the neighbouring Dogs Trust
We arranged a school visit from Herons Dale Primary for Special Needs for the official unveiling of Heron statue which we had refurbished
We changed our designs to ensure the residents' views were not obstructed.
Click here to find out more about the scheme