Starting out on a career?
Don't go just yet – see how Mackley can work for you……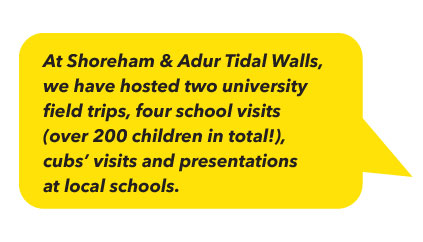 Work Placements
We have worked closely with Steyning Grammar School and Brighton University, providing numerous work placements in the past five years; from one week's work experience to one-year graduate work placements. We support other local schools, colleges and universities through our corporate social responsibility, regularly getting involved with community projects.
Ongoing support
Once you're on board, we will support you every step of the way. We know deciding your future is not always cut and dried so we provide opportunities at every level, skill and discipline to help you achieve your potential and perhaps help decide which path to follow. Our rotational programme will give you experience of every aspect of construction life, both at the coalface and behind the scenes. You could be on site, at the yard and in the office. We have a wealth of experienced people ready and willing to teach and mentor.
Continued Professional Development
Mackley actively encourages continuous growth. We therefore provide bespoke training agreements for all new starters, assigning appropriate mentors and monitoring progression through access to all facets of the business. This is carried out continuously to ensure skills and training are being monitored and developed appropriately. This continual process of encouragement, assessment, mentoring and development is at the heart of Mackley's approach to maintaining an innovative and world class workforce.
We are members of  CITB (Construction Industry Training Board), and can provide the most up to date certified training to build a safe, professional and fully qualified workforce, approved at industry standard.
Professional Development
Our individual training programmes for each member of staff are assessed regularly through one-to-one appraisals and training is linked to departmental and corporate goals. This continues throughout careers, with opportunities for our personnel to shape their careers and develop new skills.
Professional Membership
At Mackley our employees are supported  to achieve professional registration and complete accredited training. Our professional registrations focus on the roles most relevant for coastal and fluvial engineering; ICE Chartership for engineers & designers, IEMA/CIWEM/CIEEM environmental accreditation, IOSH/NEBOSH safety accreditation and professional support services such as accountancy and HR. Where appropriate, we support Continuing Professional Development (CPD).
Each graduate and new recruit is actively encouraged to utilise accredited training as a roadmap to professional registration.
Steve's journey
Steve joined us aged 17 as an apprentice. Recently he was a key employee for Mackley on the iconic Brighton i360 project This project included two apprentices in engineering, two work placements for University of Brighton Engineering students and three university field trips.
Now a  Project Engineer, Steve completed his 5-year apprenticeship as a day release student, gaining a 1st Class BSc (Hons) in Civil Engineering. As a measure of his development and our confidence in his ability, he successfully positioned the 7,230t tower foundation block within 5mm accuracy.
Sabitha's journey
Sabitha joined us as a graduate trainee in 2016 on a one-year placement. We are currently training 3 apprentices and 2 work placements for University of Brighton Engineering students at our Shoreham and Adur Tidal Walls project.
During that time Sabitha helped us develop a digital map interface for bore holes, geo-located survey system. She was trained and mentored by former apprentice Steve (above).
When she returned to University at the end of her placement Sabitha felt that the on-site experience she had gained was invaluable. Now, after a year back at University to finish her studies, Sabitha joins us again in 2018 as a graduate engineer.