Our Environmental Management system is certified to ISO14001:2004 and our Health Safety and Environment Policy includes a commitment to reduce our impacts upon the environment. Our sites operate to best practice standards and all of our site managers receive environmental awareness training.
We are experts in working within highly sensitive sites, often within designated wildlife sites or close to residential properties. Pollution control, protected species and noise control are routine operations for our site teams. We understand the requirements of licences and consents and help our clients liaise with statutory bodies on a regular basis.
Medmerry - working with protected species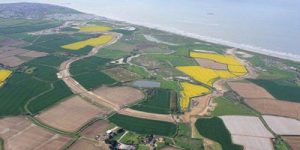 Our Medmerry Managed Realignment Project in West Sussex supported numerous protected species including badgers, great crested newt, breeding birds and water vole. We worked alongside ecologists to provide extensive mitigation in accordance with licences from Natural England.
Several hectares of reptile habitat were created, more than 100 voles were translocated and two new badger setts constructed. Sussex University and the RSPB will continue to monitor the site in the years to come, providing valuable information about the long-term success of our mitigation.
Kew Gardens - tree root protection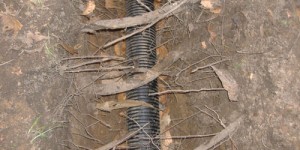 In recent years we have undertaken a series of irrigation projects for the Royal Botanic Gardens in Kew, during which we have demonstrated our ability to work in an important tourist location and to take great care to avoid damage to plants and trees. All tree root areas required hand excavation under the watchful eyes of Kew Garden staff. In addition, this World Heritage Site was able to continue operating and opening as normal throughout our works.
Dartford Creek mudflat stabilisation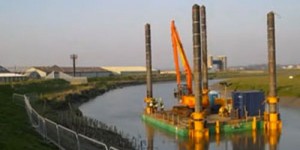 Working with our Team Van Oord partners, we have helped enhance numerous water courses and riverside habitats using both new and traditional technologies. For example, traditional faggots from coppiced woodland were used to protect the banks at Dartford Creek, and at the same time provide greater diversity along this tidal mudflat.
Ternery

 Pools Nature Reserve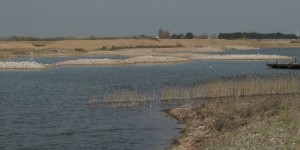 This project at Ternery Pools Nature Reserve near Rye Harbour involved the creation of a chain of islands within a flooded former gravel pit used by breeding birds. The site is inside the Dungeness, Romney Marsh and Rye Bay SSSI and Dungeness to Pett Level Special Protection Area highlighting its importance for bird life. Working closely with the Sussex Wildlife Trust Nature Reserve Manager, the islands were ready just as the gulls started to prospect for territories and the first Sandwich terns arrived back from Africa.