We are committed to promoting sustainable development in all aspects of our work. Concern for the environment, coupled with the broader issues of social and economic sustainability are composite components of our business activities and its management. We have a Sustainability Policy implemented by a Sustainability Action Plan which has identified our major areas for action.
The examples below demonstrate our approach to sustainable development.
Public engagement at Shoreham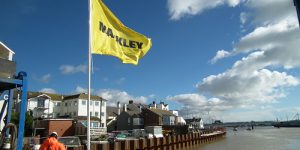 Due to the large scale and multiple sections of the Shoreham Adur Tidal Walls scheme, community liaison is paramount. At the heart of the project is a dedicated project visitor centre, located within the site office compound at Beach Green Car Park. The centre is looked after by Angela Spinks, Communications and Liason Officer and is open from 12-5pm, Monday to Friday. Angela is also responsible for liasing with the local community, sharing key information such as road and bridge closures.
Clay re-use at Broomhill Sands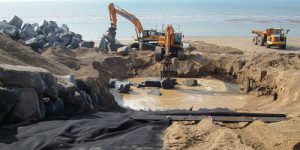 As part of the Broomhill Sands Coastal Defence scheme, officially opened in May 2016, 30,000t of clay - excavated to make way for the rock revetments - was sold to a property development project in nearby Hythe. Originally, the salt-contaminated clay would have been expensive to dispose of safely, but because the Hythe project was also in a sea environment, the high salt content was not a problem.
Pevensey Coastal Outfalls Reconstruction - trial of tropical timbers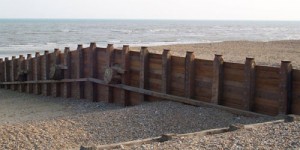 We trialled new species of timber at Pevensey to identify alternatives to tropical hardwoods. Second hand greeheart and oak piles were used, along with Douglas fir and eveuss planking. The strength, durability and resistance to abrasion of these species were tested with results fed back to the Environment Agency.
Medmerry Managed Realignment - community liaison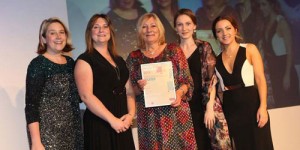 Due to the large scale and multiple objectives of this 400ha project, community liaison was paramount. A stakeholder advisory group was established early on to ensure that local views were incorporated into the design and construction planning. Liaison also involved public exhibitions, letter drops, face to face meetings with local landowners and articles in local publications. Guided walks, talks to local interest groups and school visits have also been carried out during construction. This work won a Silver CIPR PRide Award for Community Engagement.
Orchard Wharf - timber recycling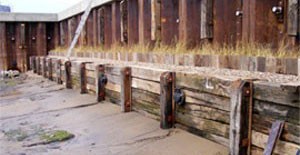 The recycled timber terrace and fenders were formed using timber reclaimed from two other Mackley projects in the area. The terrace created approx 40m2 of new BAP priority habitat, including reed beds.
Sustainability at Mackley
Procurement
• Sustainable timber supply
• Supplier engagement
• Materials impact analysis
Efficiency in design & construction

• Value engineering 
• Carbon reduction 
• Water use
• Waste management
Community commitment

• Use of local firms 
• Community liaison
Valuing the workforce
• Ongoing training 
• Equality & diversity
Protecting & enhancing the environment
• Biodiversity protection 
• Pollution control