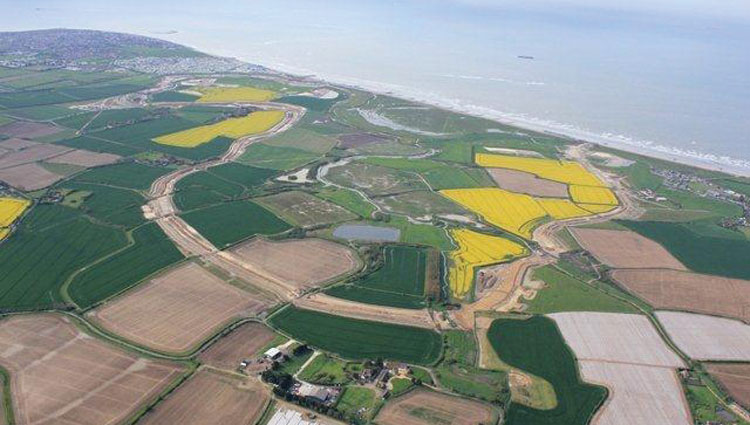 A further hat trick of awards presented recently to the Medmerry Managed Realignment Scheme* brings the total number of accolades bestowed upon the scheme to 16 in the past 18 months.
The latest wins for the £28m Medmerry scheme, which was carried out by Mackley working as part of Team Van Oord**, came at the 2015 RICS South East Awards ceremony where the scheme won three of the nine available awards.
The RICS Awards recognise the talent and ingenuity of property professionals and the projects they create around the south east of England. A record number of guests attended the 2015 awards ceremony on 14 May.
Medmerry was named winner of both the 'Design through Innovation' and 'Infrastructure' categories, as well as the premier award of the evening, 'Project of the Year'.
Maurits den Broeder, chairman of Team Van Oord, said: "We are very proud of the continuing success of the Medmerry scheme, which has been hailed as a gold standard of flood defence in the UK.
"The RICS Awards celebrate the talents of surveyors, property developers, engineers, planners and architects and showcase how professionals use their skills to develop, regenerate and conserve the environment in which they live and work.
"We are delighted that the scheme has automatically been put forward for the 2015 RICS Awards Grand Final, and we look forward to that presentation ceremony on 16 October at The Dorchester Hotel, London."
*Medmerry Managed Realignment Scheme
The project, which involved the construction of four miles of new sea walls to reduce the flood risk to hundreds of properties on the West Sussex coast, has been the subject of universal acclaim since it opened in November 2013.
The scheme has created a new wetland for wildlife to flourish and much of the site is now managed by the RSPB as a nature reserve.
Of all the accolades it has received to date, perhaps the highlight came in the 2014 British Construction Industry (BCI) Awards. The scheme, which was described by the judging panel as "groundbreaking" and "innovative", received two awards – including the top award of the night, The Prime Minister's Better Public Building Award, which is sponsored by The Cabinet Office.
**Team Van Oord
Team Van Oord is a joint venture partnership between Van Oord, Kier Group, Mackley Construction and Royal HaskoningDHV.
19 May 2015