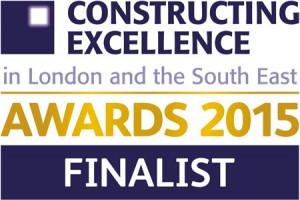 A project which saw the rapid restoration of a number of assets damaged by unprecedented flooding, carried out by Mackley working as part of Team Van Oord*, has been nominated for two Constructing Excellence Awards.
The Asset Recovery Programme South East successfully restored more than 60 Environment Agency assets, including fluvial structures and coastal defences, in the south east of England.
This achievement has now been recognised by the Constructing Excellence in London and the South East Awards 2015, with the project nominated in two categories, 'Project of the Year' and 'Integration & Collaborative Working'.
The Constructing Excellence Awards recognise the very best companies, collaborations and projects – particularly those that share best practice and inspire others to adopt new and better ways of working to deliver outstanding results.
Following the destructive winter storms of 2013/14, through the Asset Recovery Programme more than 60 vital flood defence sites, offering protection to around 1,500 homes in the south-east of England, were swiftly restored ahead of the following winter flood season.
The Environment Agency and Team Van Oord defined new ways of working in order to deliver the programme safely, sustainably and swiftly.
A variety of engineering solutions were required to reinstate a diverse range of flood defence assets including embankments, sluice gates, weirs, groynes and other coastal defences.
Working with extremely tight time constraints, efficient programme management and communication were key to the success of the project which has provided communities with more resilient assets.
The winners will be announced at the Constructing Excellence in London and the South East Awards ceremony in London on 2 July.
*Footnote
Team Van Oord is a Joint Venture partnership between Van Oord, Kier Group, Mackley Construction and Royal HaskoningDHV.
19 April 2015