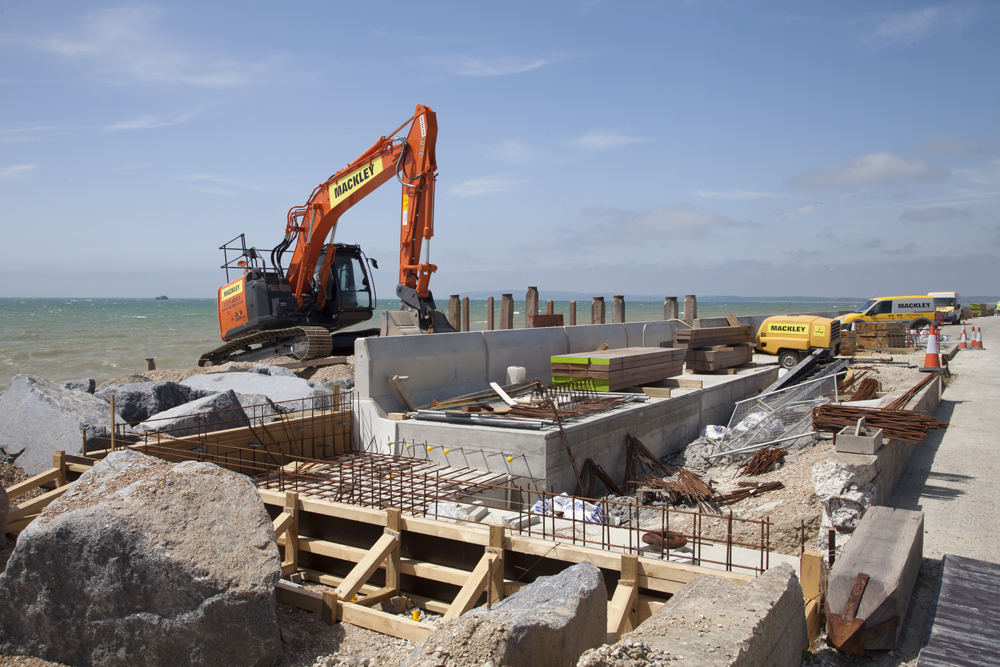 In addition to the official awards bestowed on the Broomhill Sands Coastal Defence Scheme*, the project team has also received a number of accolades from colleagues within the Environment Agency.
Located at Camber Sands in East Sussex, the Broomhill Sands scheme provides improved protection from the risk of flooding for around 1,400 homes and more than 100 businesses. The scheme has increased protection from one in 20 years to one in 200 years.
The project team developed a number of innovations which are 'firsts' for the Environment Agency and even in some instances for the construction industry itself.
These include: groyne planks made from recycled plastic; a new technical specification that covers void ratio, rock interlocking, panel densities and rock sizes; developing the concept of a 'welcoming void' to deter the public from climbing onto a rock revetment; and a safety system for managing the interface between the kite surfers and construction works which is now considered international best practice.
In February 2016 the scheme received the Innovation Award at the 2016 Environment Agency Project Excellence Awards which recognise excellent project work undertaken by the Environment Agency and its partners. Broomhill Sands was also shortlisted in two other categories: 'Programme and Project Delivery' and 'Efficiency'.
And last year the scheme was the recipient of the 2015 Environment Agency Exemplar Award which is presented annually to recognise outstanding health, safety and environmental performance in the delivery of its projects.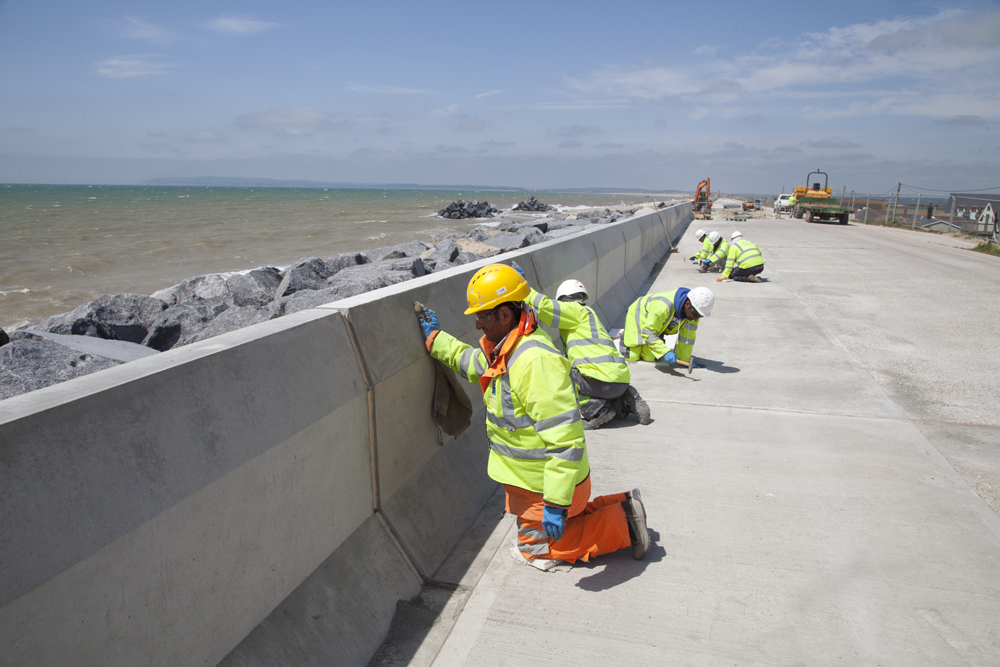 In an email to the project team on 8 March, Richard Oakes, the Environment Agency's FCRM Programme Manager for Kent & South London and Thames Tidal Defences, said: "The Broomhill Sands scheme and acceleration works within it have been a massive success story.
"I do not underestimate all the hard work you have all put into this project and its success is a clear reflection of all your combined efforts. The challenges in delivery that you have overcome, the innovative thinking displayed, the efficiencies coming out of the work and getting the works delivered to time and below approval are a superb achievement."
Kevin Talbot, the Environment Agency's Project Executive NCPMS, praised the team for delivering the scheme "on time, as forecast, before the end of 2015/16".
He went on to add that the scheme "will be delivered below its approval value", adding that "substantial efficiency claims have been made".
*The works at Broomhill Sands extend across 2.5m of beach and include: a 1.8km length of rock revetment requiring 265,000 tonne of rock armour and a new concrete wave wall; recharging 700m of shingle beach and replacing the existing timber groynes; and widening and improving the existing access way along the top of the sea defences, including pedestrian access steps and ramps down to the beach.

23 March 2016