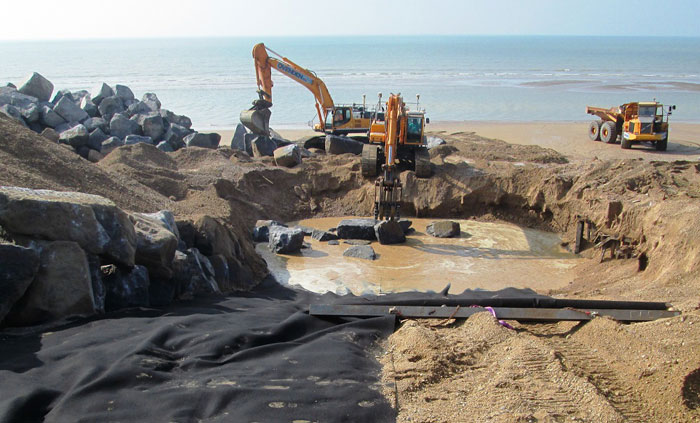 The Broomhill Sands Coastal Defence scheme has featured in the latest edition of a magazine produced by the Environment Agency and its partners to 'innovate, share and standardise' the delivery of projects for communities.
The scheme, carried out by Mackley working as part of Team Van Oord, features in issue seven of Current Magazine, which was published on 24 March.
In the 'performance and policy' section of the magazine (page five), the £30m Broomhill Sands Coastal Defence Scheme is reviewed by Ian Wright, the Environment Agency's NCPMS (National Capital Programme Management Service) Commercial Services Manager.
The Broomhill Sands scheme, which took two years to complete and was officially opened in May 2016, provides improved protection from flooding for around 1,400 homes and 100 businesses along a 2.5km stretch of the East Sussex coastline from The Suttons to Lydd Ranges.
In the Current Magazine piece, Ian Wright identifies setting common goals, working positively with stakeholders and proactively managing efficiency savings as the main reasons for the project's success. The scheme is described as a 'model project that provided additional results'.
Richard Oakes, Environment Agency FCRM Programme Manager, is quoted as saying: "Broomhill Sands was a real success story in terms of the willingness of the team to be really challenging in their commercial approach.
"It was a really well run project that had the flexibility to adapt to all the challenging circumstances that it came across.
"I was, and continue to be, incredibly proud of what the project achieved."
---
04 April 2017