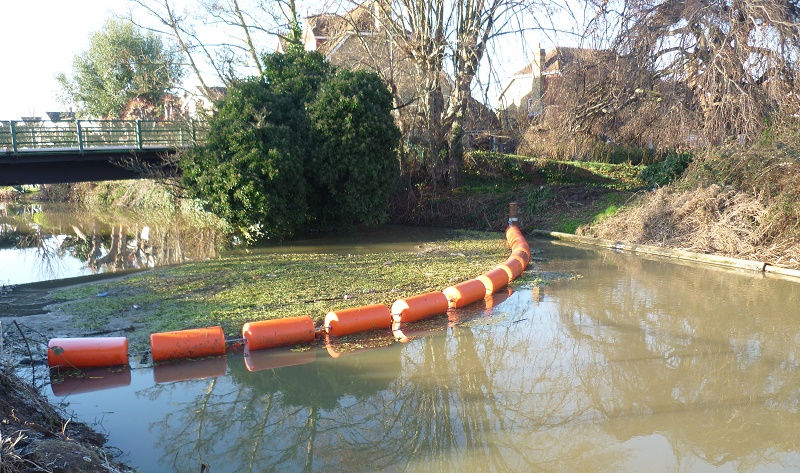 Working as part of Team Van Oord and on behalf of the Environment Agency, Mackley is close to completing a project to improve safety and access to two rivers in Surrey.
The programme of works involves the placement of a series of safety booms, a debris boom and access ramps on the Rivers Mole and Ember at East Molesey.
The safety booms will provide a barrier to prevent river users from inadvertently accessing nearby weirs, while the debris boom will prevent debris from becoming trapped in the weirs and potentially increasing the flood risk.
The new access ramps will provide safer access to the rivers for Environment Agency staff carrying out maintenance of the booms and the removal of floating pennywort.
Both the Mole and Ember have seen an increase in the volume of floating pennywort in recent years. This invasive species blocks watercourses and river structures, which can in turn lead to flooding. The works being carried out by Mackley will provide river access for craft used to mechanically remove pennywart and apply sprayed treatments to control it at an early stage.
In total, eight safety booms and five access ramps will be installed at various locations along the two rivers.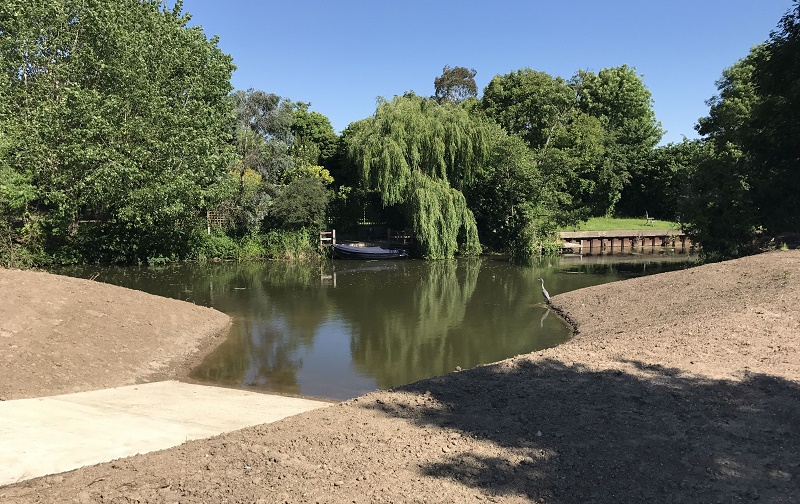 The booms have been installed using a 'Magic Float' modular pontoon system and workboat. Circular hollow section piles have been installed, with the booms secured to these using pile clamps and bow shackles. Some of the booms were installed from the river bank using ropes to pull them to the opposite bank and the weir access to cross the river.
The access ramps are being constructed by piling an area and installing a temporary cofferdam to keep the water out. The piled area is then infilled with concrete and the river bank regraded. Safety upstands are then being installed, and the ramps connected to access tracks which are realigned and infilled with a type 1 granular fill.
Working close to and on the river, the Mackley team is taking particular care to avoid any water or land pollution and to preserve the natural flora and fauna in the area. The team is also looking out for any signs of protected species, including otters and newts, that could be in the vicinity.
In March, a total of 43 newts were rescued from the cofferdam at Island Barn, and subsequently identified as male and female Smooth Newts and Palmate Newts by an ecologist working for Royal HaskoningDHV as part of the TVO team, before excavation works at the site were able to commence.
The works are expected to be complete by the end of August.
---
19 July 2017