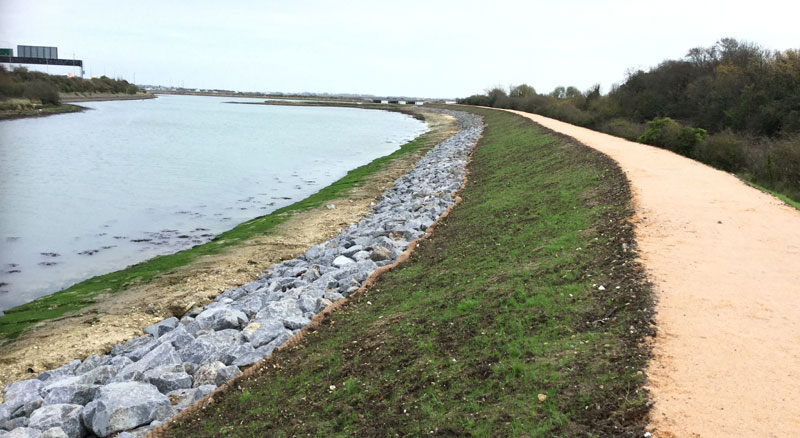 The environment secretary Liz Truss has praised the new £6m flood defences on Portsea Island's northern shore following a recent visit to the site.
This is the second time in a matter of a few weeks that Ms Truss has visited and praised a scheme delivered by Mackley, working as part of Team Van Oord* and on behalf of the Environment Agency.
Following her visit to the Portsea scheme, the first phase of the wider £44m Anchorage Park project, Liz Truss told the Portsmouth News: "It's good to see a scheme that both looks attractive and is useful for local residents in terms of recreation.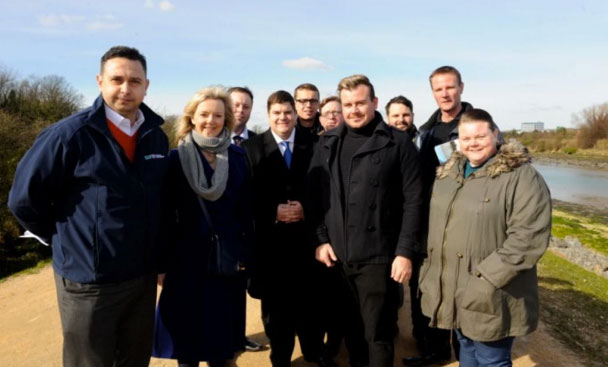 "It's an area for people to walk their dogs and go cycling at the same time as providing protection for houses and business."
Commissioned by the Eastern Solent Coastal Partnership and made possible through funding provided by the Environment Agency, the recently completed works at Portsea will reduce the risk of coastal flooding and erosion to the area over the next 100 years.
The scheme involved the construction of 1.4km of coastal defences along the north of Portsea Island, a small, low-lying island which contains a large proportion of the city of Portsmouth. It is the third largest (by population) of any island in the British Isles after the mainlands of Great Britain and Ireland, and has the highest population density.
A delegation from the Environment Agency (EA) and Portsmouth City Council also gave their seal of approval to the scheme following a site visit in November 2015. Visitors included John Curtin, the Environment Agency's Director of FCERM, Ian Hodge, the Agency's Deputy Director of Delivery and Assurance, several members of the Environment Agency area team and Portsmouth City Council senior management.
It is the second time in recent weeks that Liz Truss has praised the work of Mackley. In late January, following a site visit she commended the 'rapid action' taken to plug huge holes in the promenade and sea wall at Southsea, following storm damage in late December 2015.
Team Van Oord*
Team Van Oord is a joint venture partnership between Van Oord, Kier Group, Mackley and Royal HaskoningDHV.
3 March 2016