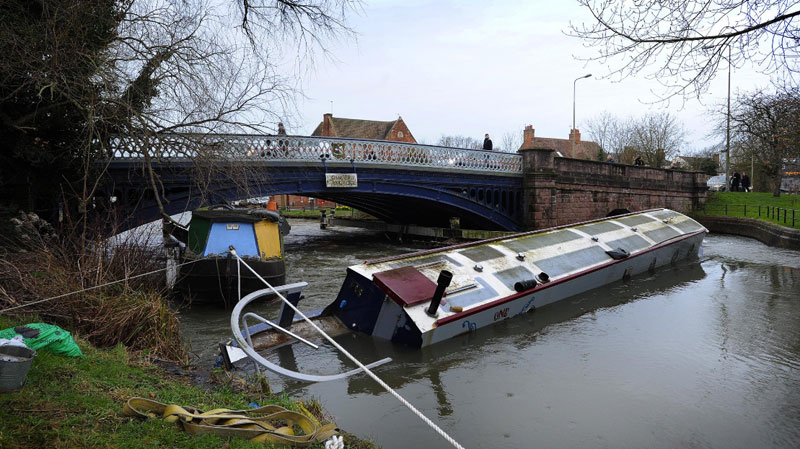 Working in partnership with the Environment Agency and as part of Team Van Oord, Mackley assisted with the successful removal of a narrow boat which had become stranded on the River Thames in Oxford.
The narrow boat, one of two which came adrift of their moorings in high winds on Monday 1 February, ended up side on and blocking the Thames at Osney Road Bridge.
The boat, which was estimated to weigh between 20 and 25 tonnes, had a severe list and was taking on water and police closed Botley Bridge as a precaution.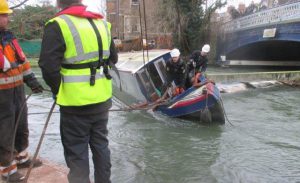 After initial attempts to to pull the boat free failed, discussions turned to the use of a crane to assist with the recovery.
Enabling works, carried out by the Environment Agency field team, included removing the top of the riverside retaining wall and lowering the soil level in the proposed landing area. 40 timber EKKI mats were also laid to provide a vehicular track and turning area at the site, which was very restricted.
On Friday 5 February, in front of a crowd of onlookers, the recovery operation started at around 3.00pm, with the final pull at about 7.00pm.
Following a long and complex operation, the boat was successfully winched out of the river and onto the temporary slipway, thereby removing the immediate local flood risk which was heightened by the forecast of imminent heavy rainfall.
The operation then moved into the recovery phase, with a strong focus on minimising damage to the site and boat, and ensuring the safety of the public and the team working on the project.
Sir James Bevan, Chief Executive of the Environment Agency, who visited the site himself to see the ongoing operation, said: "Well done to everyone involved. Having seen it myself I know how important and how difficult this was."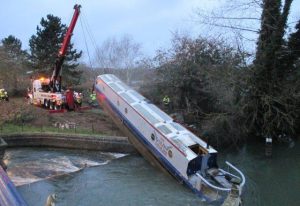 Magnus Williams, Environment Agency, added: "Team Van Oord*/Mackley were brilliant. It was a huge relief to see the boat reach dry land and I would like to offer my personal thanks to (Mackley's) Richard Lewis and Barry Holt."
Barry Holt, part of the Mackley team on site, said: "This was a complex operation involving Mackley and the Environment Agency, commercial vehicle recovery specialists Mick Gould Commercials, and Hughes Sub Surface Engineering who provide diving services to the Environment Agency.
"We are also very grateful to the owners of some adjacent allotments who were most cooperative in allowing us to use their land."
The recovery was covered by both BBC News and the local Oxford Mail.
Team Van Oord*
Team Van Oord is a joint venture partnership between Van Oord, Kier Group, Mackley and Royal HaskoningDHV.
9 February 2016