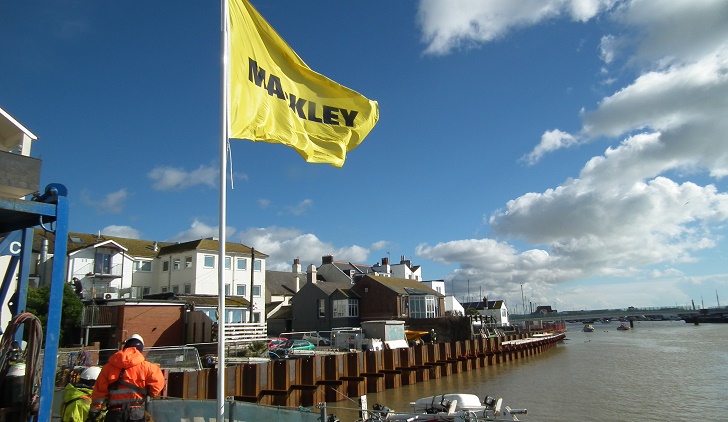 Work on the Shoreham Adur Tidal Walls scheme is well underway, with piling works at two of the project's 10 reaches now finished.
The Shoreham Adur Tidal Walls scheme is being carried out by Mackley, working as part of Team Van Oord and on behalf of the Environment Agency, Coast to Capital Local Enterprise Partnership, Adur District Council and West Sussex County Council.
Once completed, the project will significantly reduce flood risk to over 2,300 properties in Shoreham and East Lancing, as well as protecting important local infrastructure such as the road network, railway line, and Shoreham Airport.
The scheme is separated into 10 reaches, or lengths of the estuarine bank. The design of the flood defences varies between the reaches as they have different characteristics and are subject to different pressures and potential flood impacts. The proposed defences include steel sheet piling, concrete walls, flood glass and earth embankments.
Installation of steel sheet piles at reach W4 (west of the footbridge) and E1 (Shoreham High Street) have now been completed, with the latter ahead of schedule.
While piling works in E3 are almost complete, the remaining work is on hold until Network Rail has finished improvements to the railway bridge.
Work is now set to begin at W6 (Adur Recreation Ground), while the project team is currently consulting with residents in advance of construction works at W2 (Emerald Quay to South Wharf), W3 (Riverside Road) and W5 (Riverbank).
Reach W6 comprises the west bank of the River Adur between the A259 and the railway bridge. Phase one of this section of work (tidal pool, embankment and concrete works along river frontage) is expected to continue until June 2017.
Russell Long, Flood Team Leader at the Environment Agency, told the Shoreham Herald: "Work on the scheme is progressing well, and further phases of work are set to begin later in the year.
"We are aware of the impact that the development of these schemes can have on local communities, and we thank the residents of Shoreham for their understanding."
Speaking about the early completion at reach E1, Tony Camilleri, Managing Director of Mackley, said: "We are very proud of our project team and the way they have managed this very complicated section of the Shoreham Adur Tidal Walls Project.
"Particular credit should go to the piling crew for the way they have tackled the logistics of this operation, and for the quality of the pile installation."
For all the latest information on the project, including road and bridge closures, residents are encouraged to monitor @EnvAgencySE on Twitter, visit the project website, or call in at the on-site visitor centre.
---
03 March 2017