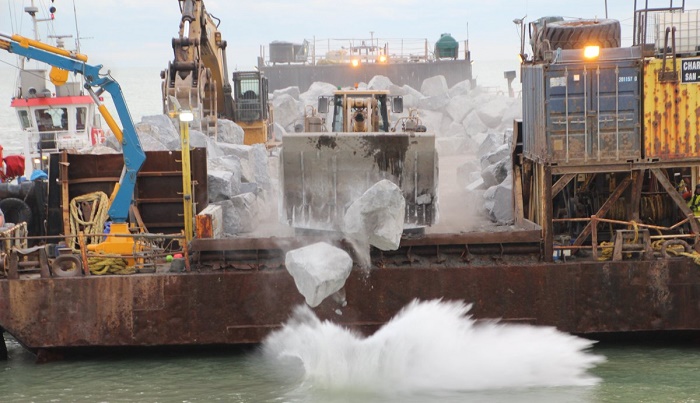 The first consignment of of granite boulders arrived in Hastings last week (8 Nov) as Mackley gets underway with works to improve the historic Sussex town's coastal defences.
Two new rock groynes will be created with 45,000 tonnes of granite, which will be delivered in stages from Norway by barge.
Once the new rock groynes have been completed, 25,000 tonnes of shingle from the beach will be moved back from Hastings' harbour arm to protect the sea wall.
The £4m scheme is expected to take around 10 weeks to complete, depending on the weather.
Andrew Martin, Mackley Project Manager, said: "Delivery of the rock boulders can only take place at high tide while conversely, construction of the rock groynes and moving shingle on the beach can only take place at low tide.
"As such we will be working at any time of the day or night, including Sundays, according to the state of the tide, in order to maintain momentum and progress works as quickly as possible.
"We are keen to complete the project before the weather deteriorates as we head into the depths of winter."
The £4m project is almost entirely funded by a Flood Defence Grant in Aid, from Department for Environment, Food, and Rural Affairs (DEFRA), with Hastings Council contributing £30,000 towards the scheme.
14 November 2016
---
Photo: Hastings Borough Council (@hastingsbc) via Twitter