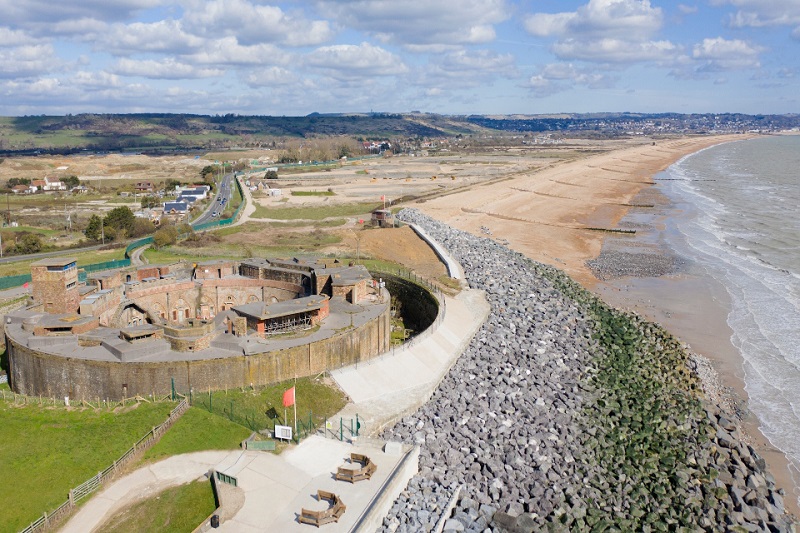 We are incredibly proud to announce that Hythe Ranges Sea Defences won the EA 2025 Award at the National Agency Awards on 4 October 2021.
This award was for a team who has delivered key work aligned to one of the three long term goals of the Environment Agency's 5 Year Action Plan, which is helping to create a better place.
Up against strong competition, the team's submission was one of 390 applications for the 12 award categories. The judges praised the 'teamwork', 'can-do approach and 'outstanding partnership', particularly with the MOD and our suppliers.
They also liked the added value and our approach to 'greening the grey' with specific mention of the new benches and the various ways that we were able to significantly reduce the carbon emissions.
Andy Martin, Contracts Manager for the project, said: "I'm really pleased that the Hythe Ranges Sea Defence Scheme has received the recognition that it deserves. It was a great project to work on, mainly due to the whole team working collaboratively with a focus on reducing carbon, value engineering the design and creating a better environment."
Let's not forget, the majority of the work was carried out while the entire country was in lockdown causing the team to adjust their methods to make sure work could continue safely and still complete on time, in order to protect the historic Redoubt and hundreds of homes and businesses from flooding.
This is a fantastic accomplishment and a real demonstration of what can be achieved when all parties work together. We're thrilled for everyone involved who has worked so hard to make this project such a success.
John Gower, the Environment Agency's Project Manager for this scheme, accepted the award. He said: "In making this scheme a reality we have reduced the risk of flooding to over 1,000 properties for 100 years, including critical national infrastructure, an army firing range and many hectares of prime agricultural land.
"The successful completion in time and on budget, was key to meeting our area's target of homes protected as part of the government's £2.6 billion investment between 2015 and 2021, better protecting more than 314,000 homes from flooding.
"As well as my colleagues at the Environment Agency, I'd like to thank our supply chain partners: Van Oord, Jacobs, Arcadis, Binnies, JBA, and Turner & Townsend each who have played their part in delivering a solution which has embraced the challenges of EA2025."
The Hythe Ranges Sea Defences project was a Design & Build contract carried out by Van Oord, supported by their subsidiary partner Mackley and on behalf of the Environment Agency.
Take a look at a video of the scheme and learn more about this and Van Oord's Lydd Emergency works here.
---
18 October 2021