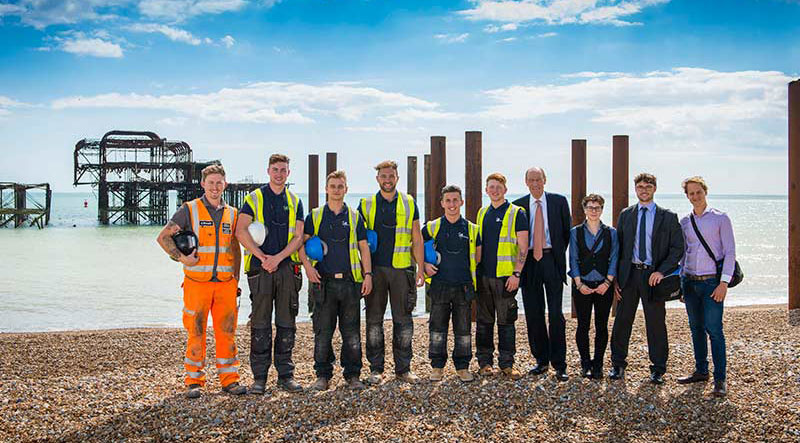 Sir John Armitt, President of the Institution of Civil Engineers (ICE), recently paid a visit to the British Airways i360 in Brighton as part of his two-day presidential visit to the South East England region.
Mackley is principal contractor for the British Airways i360 which, at 162 metres high and with an observation pod rising to 138 metres, will be the tallest observation tower outside London, offering a new perspective on the fun loving seaside city of Brighton.
Sited at the beach end of the historic West Pier on Brighton's seafront, the British Airways i360 has a slender, elegant design, with a futuristic pod allowing 200 visitors at a time to enjoy the surrounding view as it slowly unfolds.
The pod will be 18 metres in diameter, 10 times the size of a London Eye capsule, with seating and plenty of room to move around. The international team who created the London Eye are behind the project which has been eight years in the making.
Talking about the project, Sir John Armitt told the Brighton Argus: "Cities deserve iconic buildings. That's what makes cities. But the trouble for all cities is there's so much competition. You want tourists and it's a constant struggle to find new ways to make the city attractive. But the i360 will do just that.
"As an engineer, I just find the whole thing fascinating. It will be the tallest moving observation platform in the UK, higher than the tallest point of the London Eye."
During his two-day visit, Sir John also met with local opinion formers to discuss how the South East must invest in infrastructure to prepare for continued population growth.
He met with representatives from local authorities and Local Enterprise Partnerships (LEPs) in the region to discuss funding for infrastructure, Brexit and the devolution agenda.
Highlighting ICE's State of the Nation report on Devolution, Sir John encouraged greater local decision making on infrastructure projects in order to boost local growth, environmental sustainability and quality of life.
The report, published last month, backed Government effort to rebalance the economy and the focus on infrastructure as the key driver. It also welcomed the desire to develop Combined Authorities in the region.
20 July 2016