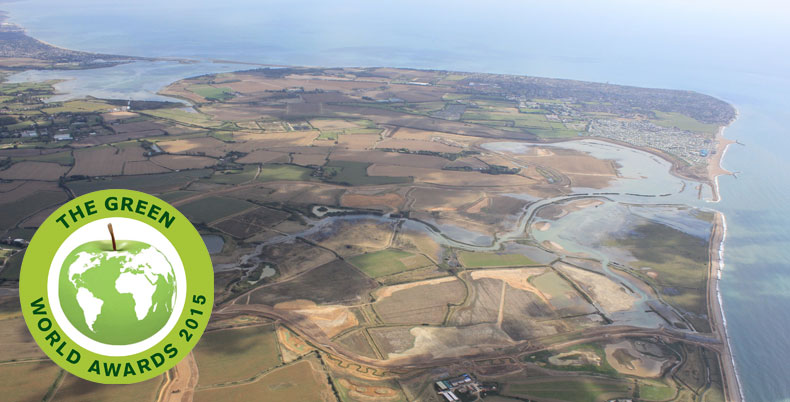 Mackley and Team Van Oord have built on their earlier success in the Green Apple Awards with further recognition in a newly established international competition, the Green World Environment Awards.
The Green Apple Awards were launched in 1994 and have become one of the world's most prestigious recognition campaigns.
The Green World Awards have been launched as the top tier of the Green Apple Awards, to enable companies and organisations to compete internationally for environmental recognition – not only for themselves, but also for their countries.
The Green World Awards recognise and reward the endeavours of governments, organisations and individuals who have a beneficial impact on the environment. Gold, Silver and Bronze awards are presented in each of nine categories.
Team Van Oord has been awarded a silver award in the 'Innovation' category for the Medmerry Managed Realignment Scheme, delivered on behalf of the Environment Agency.
Team Van Oord is listed as a Green World Award winner alongside governments and organisations from countries including South Korea, Poland, Malaysia, UAE, Colombia, New Zealand, Germany, Bahrain, Singapore and Brazil.
The overall winner, the Korea Environmental Industry & Technology Institute (KEITI), received the prestigious title of Green World Champions 2015. The award is in recognition of a Green Credit Card scheme set up in partnership with the Korean Ministry of the Environment which rewards its users for making eco-friendly purchases.
The Medmerry Managed Realignment Scheme involved the construction of four miles of new sea walls to reduce the flood risk to hundreds of properties on the West Sussex coast.
It has created a new wetland for wildlife to flourish and much of the site is now managed by the RSPB as a nature reserve.
The scheme has been the subject of universal acclaim since it opened in November 2013. In total Medmerry has received no fewer than 17 industry awards in the past two years.
Having won a Green Apple Award in November 2014, in June 2015 Team Van Oord was acclaimed a Green World Ambassador as a result of the environmental success of the Medmerry scheme.
At that time the Green Apple Award judges said: "Coastal realignment and sea defences are becoming a sustainable option now, due to rising sea levels and other economic challenges.
"Team Van Oord has unique and innovative approaches to these issues and with this project they have protected 348 properties, sewage works and caravan parks which equates to £90 million of economic benefits, and given green tourism opportunities to grow."
Team Van Oord
Team Van Oord is a joint venture partnership between Van Oord, Kier Group, Mackley Construction and Royal HaskoningDHV.
27 October 2015