We are thrilled to announce that the Van Oord, Mackley and Environment Agency Team has been awarded Marine Civils Best Project at The European Commercial Marine Awards held at the 2022 Seawork and Marine Civils Expo. Contract Manager Andy Martin and Environment Agency representative Sam Gawad, collected the award from Peter Crossland of CECA (Civil Engineering Contractors Association), who nominated Lydd Ranges Sea Defences Scheme for the award.
We are immensely proud of this scheme which has already used a number of new and innovative approaches, methods, technology and materials to help towards de-carbonising the project. The award recognises our efforts to embrace the EA's ambition to deliver net zero carbon by 2030 through innovation.
The Lydd Ranges Sea Defences scheme represents inspirational infrastructure delivery to better protect local communities and livelihoods, deliver enhanced social and environmental benefits, implement a step change in carbon management and demonstrate exceptional collaboration across a complex supply chain.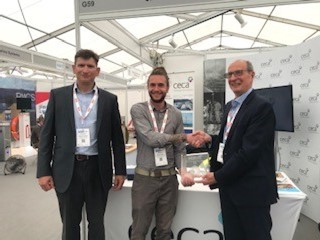 The project involves:
300,000m3 of shingle beach nourishment,
Construction of 34 timber groynes over 1.7km using FSC® (Forestry Stewardship Council®) certified timber;
Rebuild, raise and strengthen an existing flood embankment over approximately 3km, including a rock revetment; and
Landwards relocation of an existing drainage outfall and associated control structure to prepare for future coastal adaptation.
Contract Manager Andy Martin (pictured left) said "I'm so proud that all our efforts over the last two years to drive meaningful carbon efficiencies have been recognised in this award."