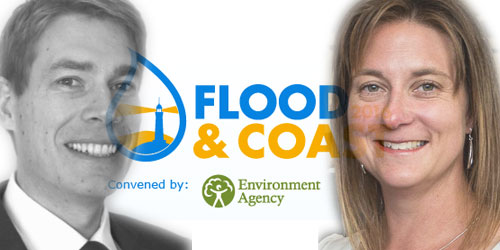 Mackley and Team Van Oord will be represented by two speakers at an important industry event that will advance the debate about flood and coastal erosion risk, resilience and response.
Convened by the Environment Agency, Flood & Coast 2016 will tackle the big questions and challenges in flood and coastal risk management (FCRM) delivery.
Under the theme 'Risk, Resilience and Response in a Changing Climate' the event will embrace the concept of a changing climate and draw on expertise and experience from within the UK, the EU and the rest of the world. The three-day programme of workshop, debate and panel sessions will be tailored to the topics selected by the government and industry advisory panel.
Mackley and Team Van Oord will be represented on the programme by Jacqui Bandy and Christopher Smith.
Jacqui Bandi will deliver a presentation on the multi-award winning Medmerry Managed Realignment Scheme in West Sussex, which includes the largest realignment of open coast in the UK.
The scheme, carried out on behalf of the Environment Agency, is a key element in a 15-year project to provide 7km of new sea defences to protect local communities in West Sussex, while at the same time creating a large nature reserve.
As well as covering the scheme itself, Jacqui's presentation will explain how the project team engaged with, and eventually won over, the local community during the course of the project, which was completed in November 2013.
Christopher Smith will present the Environment Agency's South East Asset Recovery Programme and discuss lessons learnt from the 2013/14 winter floods.
Following the destructive winter storms of 2013/14, through the Asset Recovery Programme more than 60 vital flood defence sites, offering protection to around 1,500 homes in the south-east of England, were swiftly restored ahead of the following winter flood season.
The Environment Agency and Team Van Oord developed new ways of working in order to deliver the programme safely, sustainably and swiftly. A variety of engineering solutions were required to reinstate a diverse range of flood defence assets including embankments, sluice gates, weirs, groynes and other coastal defences.
Alison Baptiste, Director Strategy & Investment at the Environment Agency and Chair of Flood & Coast 2016, said: "We've seen significant flooding and coastal erosion over recent years and the Environment Agency and the wider FCRM community have learnt a lot from these events.
"Flood & Coast 2016 offers an opportunity to draw on the best learning from all the practitioners in FCRM delivery, and from those affected by floods, so that we are all better equipped to manage the flooding and coastal erosion we know will happen in the future.
"The event will combine the latest thinking from academics in our leading universities with innovative approaches from practitioners who deliver day-to-day on the ground."
Flood & Coast 2016 will be held at the Telford International Centre, 23-25 February 2016.
13 November 2015