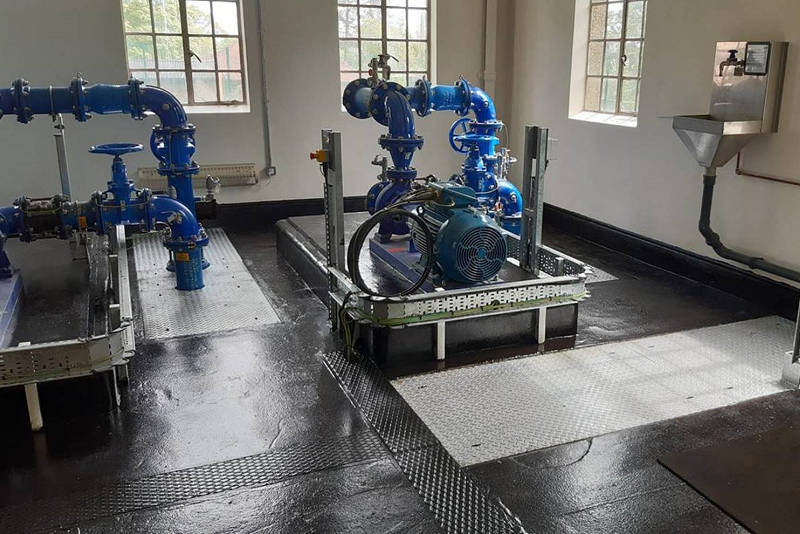 Mackley has been praised for the high-quality completion of civil works at Headley Pumping Station in Surrey, carried out as part of a refurbishment project.
The project was undertaken for SES Water, which supplies around 160 million litres of clean water every day to more than 735,000 people and in excess of 282,000 homes and businesses.
Mackley was tasked by SES Water to design and construct the civil elements of the refurbishment, working in partnership with Bridges, who oversaw the mechanical and electrical components.
Headley Pumping Station originally housed 3no. pumps that deliver raw water to Elmer Water Treatment Works.
Mackley facilitated the decommissioning of the existing system, followed by the transformation of the existing 3no. pump arrangement into a more efficient 2no. pump system.
The works also involved the reconfiguration of above and below ground suction and delivery pipework, along with the installation of new buried valves.
To complicate matters, some of the installation had to be undertaken on a 'live' pipeline that could not be isolated due to an inoperable existing valve. To overcome this, the site team installed an innovative 'line-stop' system to temporarily isolate a section of the pipeline, which allowed the works to be undertaken.
The pump station also houses the 'Motor Control Cabinets' which were removed, replaced and relocated by Bridges onto new concrete plinths constructed by Mackley.
To finish off the project, Mackley carried out a full clean and redecoration of the pump room, including a new non-slip floor coating that will improve the health and safety of the SES Water ops team during operation and maintenance.
The works form part of a wider SES Water project to deliver upgraded chemical storage and delivery areas at five water treatment works – so that they can receive deliveries of Orthophosphoric Acid and Ferric Sulphate.
---
01 July 2021