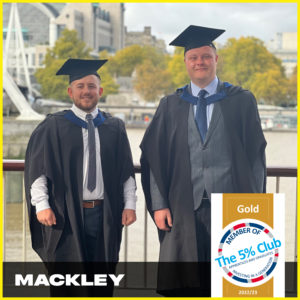 We are delighted to announce that we have been awarded Gold accredited membership via The 5% Club's 2022-23 Employer Audit Scheme. This award recognises our significant contribution to the continued development of all our Employees through "earn & learn" schemes such as Apprenticeships, Graduate Schemes and Sponsored Students Course Placements.
With so many of Mackley's projects requiring a specialist skilled workforce, the future of Mackley depends on training the next generation of civil engineers and site workers to the highest standards. This Gold membership demonstrates our on-going efforts, commitment and investment to support and welcome new talent and diverse perspectives to the team, and increase the opportunities available at Mackley to young workers.
Part of our membership of The 5% Club is our pledge to work towards having a minimum 5% of our UK workforce enrolled on formalised apprentice, sponsored student and/or graduate development schemes within five years.
We're are thrilled to report that two of our Civil Engineering Degree Apprentices Sean and Will (pictured) have recently been awarded First Class Honours Degrees. They have worked incredibly hard over the last 3 years and it doesn't end there! They will continue with their Apprenticeships for a further 6 months as they work towards their IEng qualification.
"Both Sean and Will have been with us through the apprenticeship programme where they have completed their studies with outstanding results. It has been great to see them develop into their respective roles and receive the recognition they so both so rightfully deserve!" Phil Gwynn, Operations Manager, Mackley.
Two more Apprentices are 2-3 years into their learning and are already on course for high levels of achievement. We also have two University Work Placements and three new Groundworker Apprentices who have recently started their college/site rotations. We're incredibly proud of all of them and what they have achieved so far. We believe they all have great careers ahead of them and we hope to continue to support them every step of the way.
Mark Cameron OBE, Chief Executive at The 5% Club said, "Our Employer Audit scheme recognises the efforts of all those Employers who invest in their workforce through a broad range of workplace learning schemes. It is fantastic that in these challenging times so many are able to commit to the Employer Audit and to gain the credit for their efforts, and that the majority are striving to expand their schemes over the coming years. Their efforts and achievements are to be applauded."
Tania Heap (tania.heap@mackley.co.uk) 01273 492 212
Mark Cameron (mark.cameron@5percentclub.org.uk) 07981 490776
Gill Cronin (gill.cronin@5percentclub.org.uk) 07970 673975