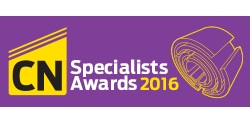 Mackley Construction has been selected as a finalist in the Specialist Contractor of the Year category of the 2016 Construction News Specialists Awards.
The Specialist Contractor of the Year category looks at the overall performance of a specialist contractor with a turnover in excess of £25m. Judges are looking for evidence of business success and development, and the quality of work the contractor carries out for clients.
Above all judges are looking for "evidence of a brilliant and thriving company that outperforms its peers".
The 2016 Awards attracted a record number of entrants and Mackley is joined on the shortlist in its category by EIC, FK Group, Keltbray Group, O'Brien Contractors, Oktra and Van Elle.
Before the awards, all finalists will attend face-to-face judging by members of the 57-strong jury, drawn from the UK's largest construction firms and the leaders of the country's major construction projects. The judging panel includes Sally Austin, Group HR Director at Costain, Richard Cook, Head of Residential at Lendlease, Nick Elliot, MD of Network Rail's National Supply Chain and Cormac MacCrann, executive director of Canary Wharf Contractors.
Rebecca Evans, Construction News Editor, said: "Construction News is proud that our Specialists Awards are the only national awards recognising the achievements of specialist contractors, whose hard work and innovation fuels the success of the UK construction industry.
"The construction industry contributes around 6% of the UK's GDP. The specialist contractors recognised on our shortlist often go unrecognized but make an instrumental contribution to the economy."
Tony Camilleri, Managing Director of Mackley Construction, said: "We are naturally very pleased to have made the shortlist for this prestigious national award.
"The shortlisting is recognition of the progress we have made as a company in the past couple of years. We have ambitious plans to further extend the services we offer and clients we work for, so hopefully we will be well placed for further industry recognition in the future.
"We look forward to the presentation ceremony in London on 24 February 2016, and to networking with more than 1,000 colleagues from the construction industry."
5 November 2015