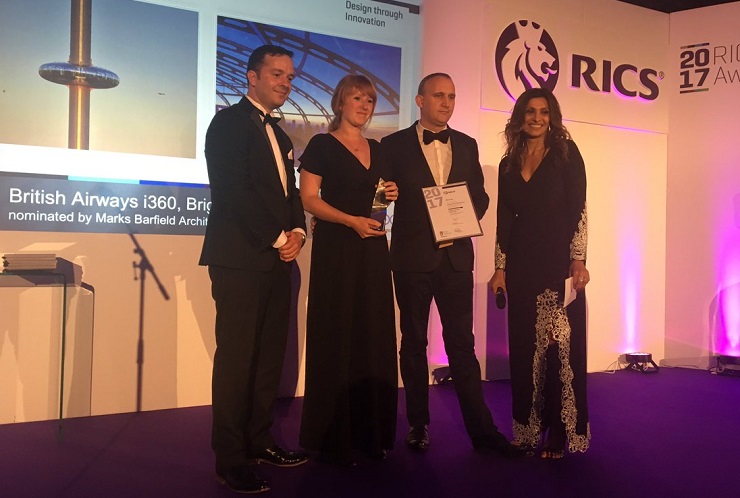 Mackley and the other organisations involved in the creation of the British Airways i360 are celebrating success, after the project picked up no less than three awards at the 2017 RICS South East Awards, including the headline accolade.
The annual RICS awards ceremony for the South East was held in Southampton on 17 May to celebrate inspirational regional initiatives in the land, property and construction sectors.
The British Airways i360, for which Mackley was the principal contractor, won the 'Tourism & Leisure' and 'Design Through Innovation' categories, before going on to be named Project of the Year – presented to the scheme which demonstrates 'overall outstanding best practice and an exemplary commitment to adding value to its local area'.
Across the categories, the British Airways i360 was described by judges as iconic, innovative, elegant and unique.
At 162 metres high and with an observation pod rising to 138 metres, the British Airways i360 is the tallest observation tower outside London, offering a new perspective on the fun loving seaside city of Brighton.
Sited at the beach end of the historic West Pier on Brighton's seafront, the British Airways i360 has a slender, elegant design, with a futuristic pod allowing 200 visitors at a time to enjoy the surrounding view as it slowly unfolds. The pod is 18 metres in diameter, 10 times the size of a London Eye capsule, with seating and plenty of room to move around.
What the judges said – click here to view the winners' brochure.
Design through Innovation
The whole approach to this project demonstrates innovation, from the imaginative funding, the thorough design and planning of the tower and pod, and the administration facilities, through the foundations, tower construction, the manufacture of the glass pod and the elegant lifting mechanism. In essence a totally innovative project that has created an iconic landmark on a famous British seafront.

Tourism & Leisure
The i360 forms an elegant focal point to the open side of Regency Square and on the axis line of the old West Pier; bounded by two new copies of the original 'Italianate' toll booths. The truly innovative design which incorporates some ingenious features making this a unique, enduring and very popular tourist attraction.
The British Airways i360 project will now go on to compete against other regional winners at the national RICS Awards Grand Final in October 2017, for the chance to be crowned an overall UK winner.
---
24 May 2017