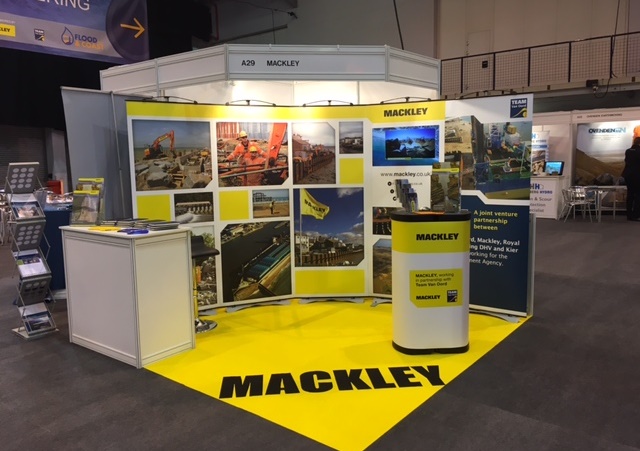 As a bronze sponsor of last week's Flood and Coast 2017, Mackley was delighted to play a full part in the industry leading event.
Convened by the Environment Agency, the three-day event at the Telford International Centre, set out to advance the debate about flood and coastal erosion risk, resilience and response.
The agenda embraced the concept of 'a changing climate', drawing on expertise and experience from different geographical regions from across the globe, with a programme of workshops, presentations, debate and panel sessions covering topics selected by the government and a panel of industry experts.
One of the highlights was a presentation by Thérèse Coffey MP, Parliamentary Under Secretary of State for the Environment and Rural Life Opportunities, who reiterated the importance of partnership working in flood and coastal risk management. In her role at DEFRA, Ms Coffey's responsibilities include floods, water and waterways and the natural environment, including biodiversity and the marine environment.
Bruce Keith, President of CIWEM, used his presentation to discuss water management around the world, reflecting on the global challenges of water shortages and flood risk, and common solutions including the use of sustainable drainage systems.
Mackley's fellow Team Van Oord (TVO) partner, Royal HaskoningDHV, featured heavily on the agenda, delivering no less than eight presentations across the first two days.
Another TVO partner, Van Oord, participated alongside Mackley in the trade exhibition, which afforded stakeholders an unrivalled networking opportunity to engage with contractors, consultants and project owners.
David Knapp, Mackley's Business Development Manager, said: "We were delighted to be a bronze sponsor of this key industry event.
"The three days of presentations and workshops afforded flood prevention and coastal management professionals the opportunity to exchange a broad range of perspectives and share innovations and best practice.
"In addition, the exhibition provided us with some excellent networking opportunities and new contacts which we will be looking to further develop over the coming months."
---
06 April 2017