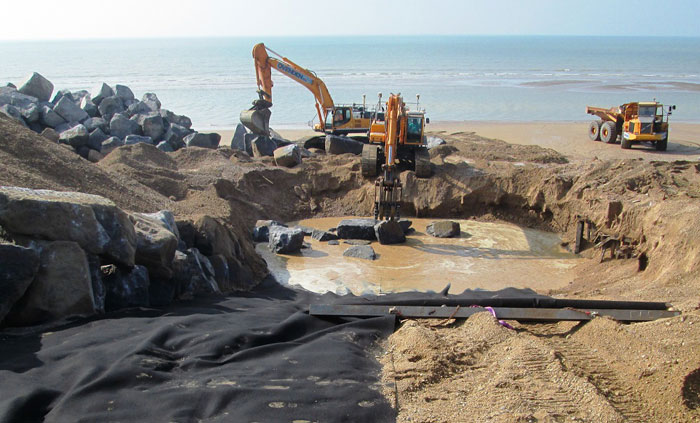 A scheme carried out by Mackley working as part of Team Van Oord* has been shortlisted in three of the seven categories in the 2016 Environment Agency Project Excellence Awards.
The Project Excellence Awards recognise excellent project work undertaken by the Environment Agency and its partners.
For 2016 there were 60 individual projects entered across the seven categories, representing a total of 96 submissions. A pre-selection panel shortlisted three projects in each category for further judging.
The £20m Broomhill Sands Coastal Defence Scheme at Camber in East Sussex is shortlisted in three categories: 'Programme and Project Delivery', 'Innovation' and 'Efficiency'.
Broomhill Sands will provide improved protection from the risk of flooding for more than 1,800 properties.
The works to improve the standard of sea defence with a wave wall and rock revetment are expected to reduce the flood risk from around 20% to 0.5% probability in any one year – equivalent to improving the risk from one in five years to one in 200 years, including allowances for climate change and changes in predicted tide levels.
The scheme includes: improving a 700m length of shingle beach by recharging the existing beach; removing the existing timber groynes and constructing eight new 54m groynes to stabilise the beach and retain the beach material; and constructing a 1,700m length of rock revetment and wave wall along the remainder of the frontage.
Broomhill Sands also won the 2016 Environment Agency Exemplar Award which is presented annually to recognise outstanding health, safety and environmental performance.
The winners of the 216 Project Excellence Awards will be announced on 26 January, with the awards presented at a ceremony on 24 February.
*Team Van Oord
Team Van Oord is a joint venture partnership between Van Oord, Kier Group, Mackley Construction and Royal HaskoningDHV.
25 January 2016