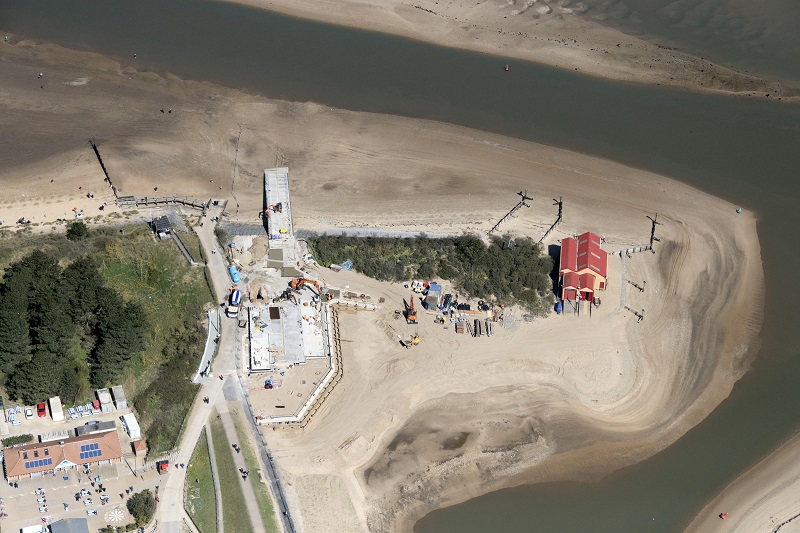 The RNLI has thanked Mackley, following the completion of a nine-month project to lay the foundations of a new lifeboat house at Wells-next-the-Sea on the North Norfolk.
Lifeboat crews at Wells have been saving lives at sea since 1830 and the first RNLI lifeboat station was built in 1869. The current boathouse is located on a sand and shingle spit just over a mile north of the town.
Construction of the new boathouse got underway in September 2020 and is split into two phases. The first tasked Mackley with constructing the foundations for the boathouse and ramps.
The works included raising the level of the beach, followed by piling for the two ramps and the main building.
All the necessary steel works have been put in place, as have the concrete slabs for the ramps and concrete for the foundations of the main building. The timber works are also complete, and the outline of the building is now very clear to see.
Works were finished in May and Mackley has now handed over to Reside – the building contractor – to complete the construction of the boathouse and ramps, phase two.
Once complete, the building will house a Shannon class all-weather lifeboat which was part funded by a successful local campaign in 2014-2015. It will also house a D class inshore lifeboat.
The new boathouse will contain upgraded facilities for the crew and other volunteers, as well as providing extra space for visitor and community engagement. It is expected that the boathouse will be completed in 2022 – and the new Shannon class lifeboat will arrive shortly afterwards.
The RNLI says it is very grateful to Mackley for the successful completion of the first phase of the works – and Mackley will follow the remainder of the project with great interest.
---
21 June 2021