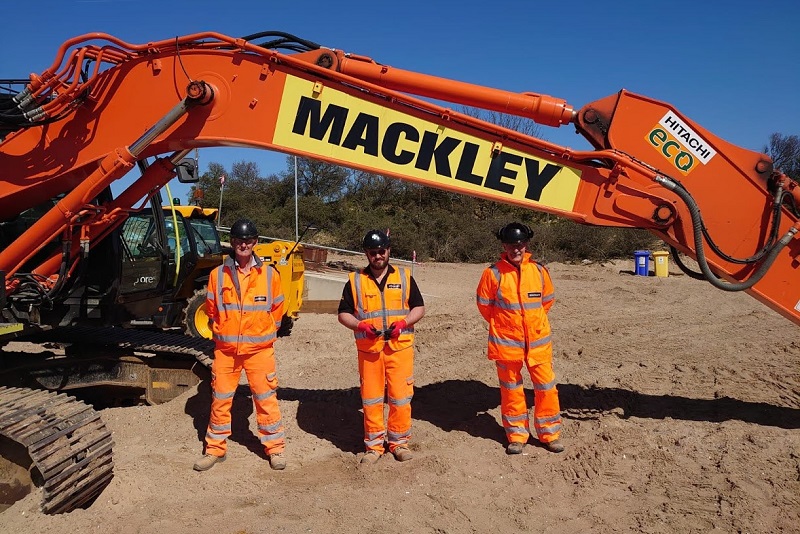 Mackley site manager, Joe Granger, has been awarded an Environment Agency Excellent Behaviour Award for his work at the Sandwich Emergency Works project.
The project involved replacing a short section (35m) of flood wall that forms part of the flood defence for Sandwich town. The existing wall was at risk of failing – so the works were undertaken as emergency works.
Because of this, there was a very short lead-time to plan the works, with the design being developed whilst the team were on-site.
To enable to meet the short-timescale Joe was proactive, looking forward to ensure things were lined up so there were no delays. There were also risks Joe needed to consider.
For example: the risk of the existing wall collapsing during the work – he ensured temporary flood protection was installed, so we were prepared for that eventuality.
There were a number of other challenges including a very small working space, so he made the decision to work from the river using a jack-up barge.
Working within a working boat yard, with some inhabited boats and in close proximity to Grade 2 listed properties, also required consideration. Joe arranged for a houseboat to be moved away from the works, as it was in the way of access and if the existing wall collapsed, the boat was at risk of being hit by the debris.
Overall, the works were in a very visible area – just behind the High Street in Sandwich, close to pubs and residences, which were sensitive to piling noise and vibration. Joe liaised with affected parties and helped coordinate communications with the Project Liaison Officer to ensure no complaints were received.
Due to early and effective liaison by Joe, Mackley had time to adjust the design to improve the look and reflect stakeholder preferences. This included improvements to adjoining river wall to remove an old timber wall and replace with brickwork – and improve mooring points.
Put together, Joe dealt with all the challenges very well and with a great attitude – and that's why he was awarded this prize.
Joe said: "This award is a reflection of how well the team worked together – I'd like to say a special thanks to Dave Fleming, Mackley foreman for his leadership and expertise on-site, which was key for the delivery and quality of the project.
"Additionally, I would like to thank Nick Paige from the Environment Agency for being approachable and a pleasure to work for."
---
03 June 2021