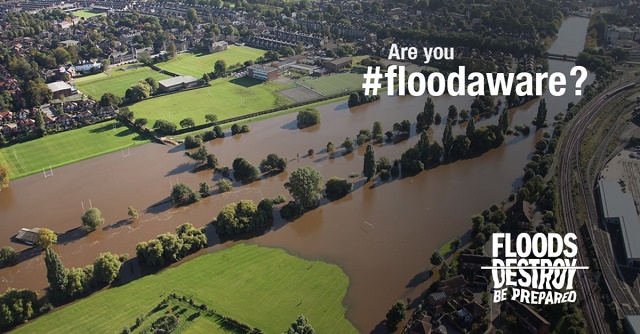 Mackley is supporting a new Environment Agency campaign designed to help protect the public against the dangers and consequences of flooding.
Launching on 1 November, the national flood action campaign aims to increase the number of people who check the flood risk in the area where they live, and encourage those in danger to sign up for free flood warnings.
Using the hashtag #FloodAware, the Environment Agency is setting out to help families across the country avoid similar devastation to that experienced by those who bore the brunt of last winter's storms – Desmond, Eva and Frank.
The Environment Agency will launch the campaign through 'Thunderclap', a crowdspeaking platform which will help propel the campaign message across social media. Through Thunderclap a single message is automatically shared via Twitter and/or Facebook on behalf of 'supporters'.
To date, the campaign has more than 260 supporters, including Mackley and Team Van Oord, equating to a social reach of more than 1.8m people. The campaign is also backed by Public Health England, Defra UK and Natural England.
The automated post, which will be sent at 11.30am on 1 November, reads: "1 in 6 properties is at risk of flooding. Are you? Check your flood risk. Stay #floodaware. It could save your life."
David Knapp, Mackley's Business Development Manager, said: "This is a great campaign by the Environment Agency, and innovative use of social media to disseminate an important message to the public.
"Being aware of the potential risk of flooding can only be a positive thing and will give people living in at-risk areas the opportunity to be prepared for the worst which hopefully for the majority will never happen.
"The measures being introduced following the National Flood Resilience Review should make the nation better prepared and more resilient to flooding.
"We were pleased to be involved in the recent successful Environment Agency exercise at Shoreham-by-Sea to test new equipment and respond to simulated flooding scenarios."
27 October 2016