The Environment Agency's Director of Strategy and Investment praised the Medmerry Managed Realignment Scheme during an interview on BBC Breakfast yesterday morning.
Speaking to BBC Weather's Matt Taylor, as part of a series of features on coastal Britain, Alison Baptiste described the scheme as a 'fantastic example' of a flood defence scheme.
In the wide-ranging interview, Ms Baptiste also explained how the scheme has provided a 'huge boost' for the economy.
Completed in November 2013, the multi-award winning Medmerry Managed Realignment Scheme, at Selsey in West Sussex, was carried out by Mackley as part of Team Van Oord and includes the largest realignment of open coast in the UK.
'Managed realignment' involves building new defences inland from the coast and allowing a new intertidal area to form seaward of the new defences. 'Intertidal' refers to the land that is exposed at low tide and covered by the sea at high tide.
The scheme, carried out on behalf of the Environment Agency, remains a key element in a 15-year project to provide 7km of new sea defences to protect local communities in West Sussex, while at the same time creating a large nature reserve.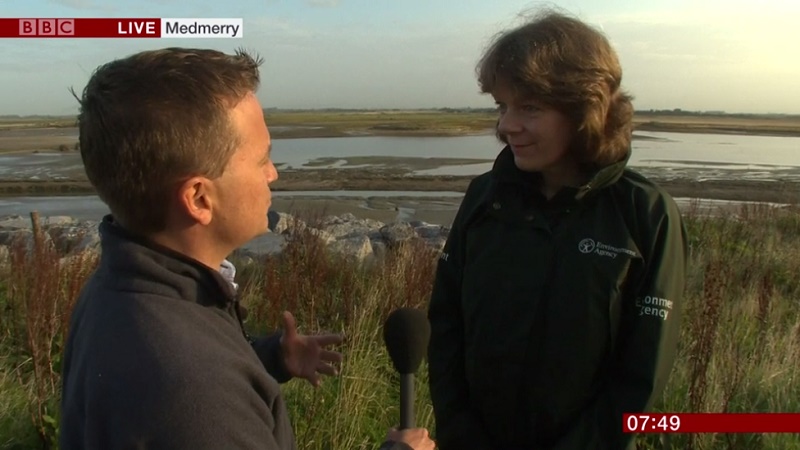 Medmerry, which is located between Selsey and Bracklesham in West Sussex, is one of the stretches of coastline most at risk of flooding in southern England.
In the BBC Breakfast interview, Alison Baptiste said:
"As an engineer, I love Medmerry. It is a fantastic example of where we can reduce flood risk to over 300 properties and we have done that by letting the sea come through the original beach.

"We have put an earth embankment right around the back, and we are using nature's own resources to slow down the energy of the waves, with the saltmarsh. We have that embankment at the back and it is a much lower embankment than we needed before.

"As a bonus, we have this beautiful 250 hectares of habitat, biodiversity that the RSPB is managing for us. It is a fantastic place for recreation, people here with their dogs and walking – and it has been a huge boost for the local economy and the caravan sites here."
Talking about coastal flooding in general, Ms Baptiste added:
"The coast is a dynamic thing, and we are seeing sea level rise so what the EA is doing with local councils is planning about how we can best manage the coast.

"And in places where there are communities, we look to protect those communities and in places like here at Medmerry where we can allow some space for the sea to come in, we work with nature to do this managed realignment.

"It is a real challenge as the seas are rising and we have some decisions to make but the EA works really closely with local councils to make the best decisions for each community – and that can often be different ways of doing it."
---
08 September 2017