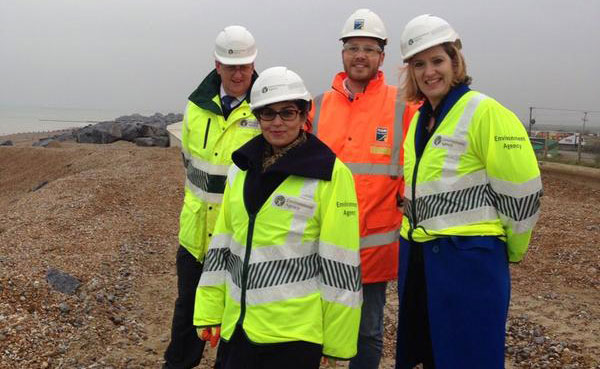 On the day the Government confirmed a £2.3bn investment in flood defence schemes across the country, a Government minister and local MP visited a £20m project on the south coast being delivered by Mackley working as part of Team Van Oord.
The six-year £2.3 billion flood defence programme announced by the Government on 2 December 2014 will provide protection for more than 300,000 properties, reduce flood risk by 5% and save the economy £2.7bn by 2021. The Government says the lifetime benefits of the 1,400 projects within the programme will be more than £30bn.
Priti Patel MP, who was appointed Exchequer Secretary to the Treasury in July 2014, and Amber Rudd MP for Hastings & Rye, marked the announcement with a visit to the Broomhill Sands Coastal Defence Scheme at Camber in East Sussex.
The MPs were briefed on the scheme's progress which, when complete, will provide improved protection from the risk of flooding for 1,831 properties, 825 of which are residential.
At present some of these properties, including those in Camber village, could flood rapidly up to first floor level, presenting serious risk to life. The main coastal road in the area could also quickly become impassable making emergency access impossible, and the sewage treatment works behind the sea defences would also flood.
Under the scheme a 700m length of shingle beach is being improved by recharging the existing beach. Eight new 54m groynes are also being installed to stabilise the beach, and a 1,700m length of rock revetment and wave wall will be constructed along the remainder of the frontage. The works commenced in summer 2014 and are scheduled for completion in December 2015.
Maurits den Broeder, chairman of Team Van Oord, said: "We welcome the Government's first long-term investment flood defence programme which will enable local authorities to plan ahead and reassure communities that flood risk is being reduced in their area.
"This is the largest and most ambitious flood and coastal erosion risk management programme ever undertaken in England, and we are proud to be one of the Environment Agency's chosen partners to help deliver it.
"We were delighted to welcome Ms Patel and Ms Rudd to the Broomhill Sands scheme, and our project team relished the opportunity to showcase their skill and dedication, alongside colleagues from the Environment Agency.
"The feedback from the visit was very positive; the minister and MP had nothing but praise for the hard work and excellent progress that they saw on site."
4 December 2014