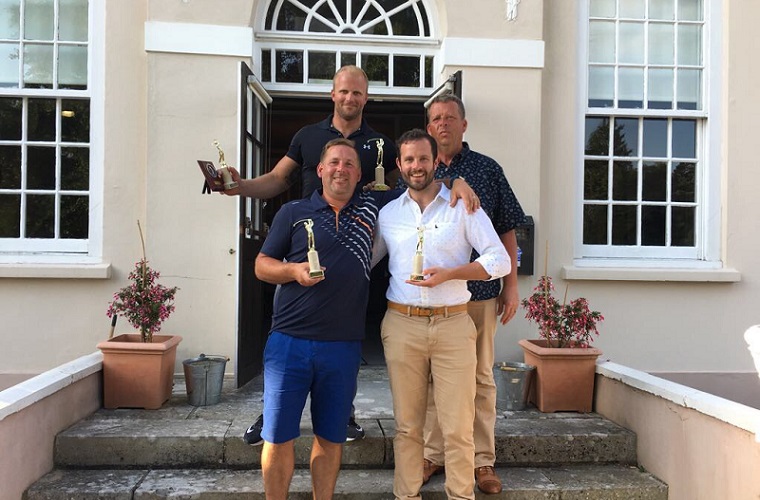 Mackley hosted its 16th annual charity Golf Day on 6 July, raising more than £1,000 for the Kent, Sussex and Surrey Air Ambulance and McMillan Horizon Centre.
Organised by Vic Gretton (Procurement Manager), the event saw 50+ golfers of mixed ability compete in two team challenges and an overall individual stableford competition.
Vic doubled up as 'Master of Ceremonies' to crown Scott Redfern from environmental conservation company, Pro-Earth, the individual stableford champion.
The team championship was won by Team Mackley for the first time, with Alan Ratcliffe (Marston Renovations), Paul Lockett (Geddes Brick) and Keith Bowden (Eden Associates) supporting skipper Vic (featured in the video below), who proceeded to present the trophy to himself.
Only two teams managed to bring the yellow ball home in the Yellow Ball competition. Team Mackley were pipped for their second title of the day by the civil engineering contractor Arbus, whose team consisted of Harry Roberts, Nigel Duley, Barry Stevens and Sam Harvey.
Dean Noakes from Trinity Civil Engineering hit a massive drive down the 18th to claim the longest drive trophy, while the two 'nearest the pin' prizes went to Kieran Doherty of SMD Formwork and Ian Thomas from PCDL (representing Team Aitken and Howard).
Vic Gretton said:
"Over the past 16 years the Mackley day has become renowned for presenting, without exception, the cheapest of trophies, preferring to maximise its donations to good causes.

"As always, Ham Manor was in a spectacular condition. The fairways immaculate, the rough daunting and, unfortunately, the water inviting. The greens were receptive, although severe penalties awaited those whose aggression got the better of them.

"The 29 degree heat took its toll, and everyone was glad to get safely back to the Clubhouse for a cooling shower and a small libation, prior to sitting down to an excellent two course dinner, followed by the prize giving.

"Our thanks to all our colleagues that supported us by entering a team, individual or by giving donations and raffle prizes to help us support these deserving good causes."
---
Companies who attended Mackley's annual golf day
Mackley, pro-earth, Frameclad, Gilmour&Aitken, CH2M Hill, PCDL, KSD Environmental, Ovenden Group, Eden Assoc., Roy Geddes Bricks, Marston Renovations, Rudridge, Chandlers Groundworks Supplies, SMD Formwork, Arbus, TJ Group, Stema UK, Dudman Group, Easigrass, Hunton Engineering & Kijlstra.
---
17 August 2017