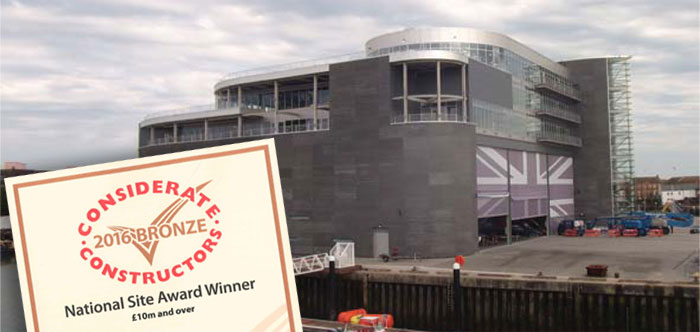 The Land Rover BAR (Ben Ainslie Racing) HQ project has picked up a Bronze 2016 National Site Award from the Considerate Constructors Scheme.
The Considerate Constructors Scheme (CCS) is a non-profit-making, independent organisation founded in 1997 by the construction industry to improve its image.
Construction sites, companies and suppliers voluntarily register with the Scheme and agree to abide by the Code of Considerate Practice, designed to encourage best practice beyond statutory requirements. The CCS focuses on three main categories: the general public, the workforce and the environment.
The CCS National Site Awards recognise sites that have raised the bar for considerate construction. Winning a National Site Award is an exceptional achievement, and recognises those sites that have made the greatest contribution towards improving the image of construction.
The 2016 National Site Awards apply to registered sites that completed in 2015. Out of thousands of registered sites around 900 have been selected to win Bronze, Silver or Gold Awards.
The headquarters for the Land Rover BAR team is where Sir Ben Ainslie is leading the British entry for the America's Cup challenge in 2017. It has been the subject of much media interest with both David Cameron and The Duchess of Cambridge visiting the site.
Mackley's work on the project began in July 2014, making the site waterproof ahead of construction.
The main body of the work involved two phases: building a solid foundation through piling and creating a ground floor slab before building on the infrastructure of the site.
Mackley's site engineers were also able to offer their expertise to other contractors who worked on the site simultaneously, thereby assisting in the smooth running of the project.
Mike Petter, Chairman of the Considerate Constructors Scheme, said: "The Considerate Constructors Scheme is privileged to be honouring top performing sites at the upcoming 2016 National Site Awards.
"Award-winning sites have demonstrated exceptionally high levels of best practice in meeting and exceeding the Scheme's Code of Considerate Practice.
"This year is the largest-ever awards to date – a true testament to the outstanding achievements being made by Scheme registered sites across the UK."
The awards were presented at a series of ceremonies during April in Edinburgh, London and Manchester.
3 May 2016