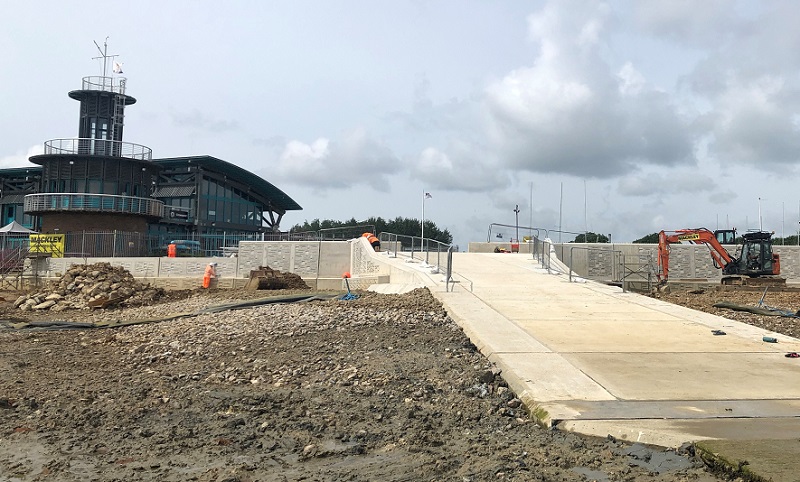 The North Portsea Island Coastal Defence Scheme, which features the first textured seawall specifically designed for intertidal ecology in the UK, was recently showcased during an industry leading event.
The New Civil Engineer (NCE) Future of Floods event took place virtually on 24 June.
On the agenda was a presentation about Phase 4 of the £58m North Portsea Island Coastal Defence Scheme, which is led by Coastal Partners (formerly Eastern Solent Coastal Partnership) on behalf of Portsmouth City Council.
The virtual presentation was delivered by Lucy Sheffield, Coastal Partners coastal environmental project engineer, and Caroline Timlett, Coastal Partners project engineer and project manager.
The scheme is being completed in five phases and Mackley was selected to carry out the fourth phase.
The fourth phase comprises long sections of textured concrete sea wall, which as well as reducing the risk of flooding, provides habitat for marine plant and animal species found in Langstone Harbour. The design provides shelter and shade and retains moisture which will provide a suitable habitat for marine flora and fauna to flourish.
The concrete sea defence is textured using an 'Ecoformliner' mould, which imprints into the wall during construction. As such, the texturing is part of the actual sea defence – rather than a "bolt on" – and has a 100-year design life.
Coastal Partners worked with experts including the University of Glasgow and University of Bournemouth to design the mould to create unique ecological niches for different intertidal species.
As well as environmental benefits, the marine plant growth on the sea wall is expected to have practical advantages. Following installation, the vegetation should absorb wave energy, reduce temperature fluctuations and reduce salt ingress and egress into the local ground water to create a more stable environment.
---
13 July 2021