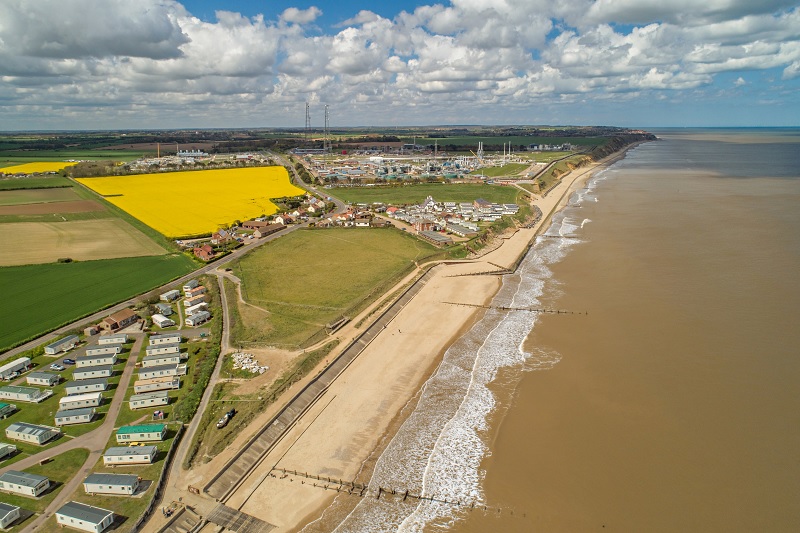 The Bacton to Walcott Sandscaping Scheme has won the British Construction Industries Award Climate Resilience Project of the Year 2020.
North Norfolk District Council led the delivery of the project in 2019 on behalf of Shell UK Ltd and Perenco UK Ltd to provide coastal protection to Bacton Gas Terminal and the villages of Bacton and Walcott.  The scheme was designed and supervised by Royal HaskoningDHV and constructed by Team Van Oord.
The team are delighted to have won the award. The prestigious award brings recognition to the challenges on the coast in the face of climate change and the need to be innovative in developing solutions for the future.
Cllr. Angie Fitch-Tillett, Portfolio Holder for the Coast at North Norfolk District Council, said: "It has been an honour to be a part of a historic scheme along the North Norfolk coastline.
"We are particularly proud that the team who worked on the Sandscaping Scheme and incorporated a diverse range of skilled experts in all tiers of the project, including management.
"Alongside our partners, we are glad that our work here in North Norfolk is recognised by such a prestigious Industry body and we are proud to say that we have completed the project while working with natural processes. It is important that we recognise the impact of nature and climate change on our coastlines."
The British Construction Industry Awards (BCIA) are the most prestigious awards in the built environment sector, with winning projects and teams recognised for their achievements within the industry and to the public.
The awards recognise and reward excellence in project delivery and, crucially, delivering outcomes for society, celebrating the hard work and dedication of the whole project team – from clients, architects, designers and contractors.
The Sandscaping Scheme had also recently been awarded a Considerate Constructors National Site Bronze Award, won the Pipeline Industries Guild Subsea Pipeline Project Award for the combined outfall constructed at the gas terminal and has been shortlisted for the Institute of Civil Engineers East of England Merit award and a finalist for the Flood and Coast Awards International Excellence category. In 2019, it was also awarded the NCE100 Innovation in Project Initiation Award.
---
13 November 2020