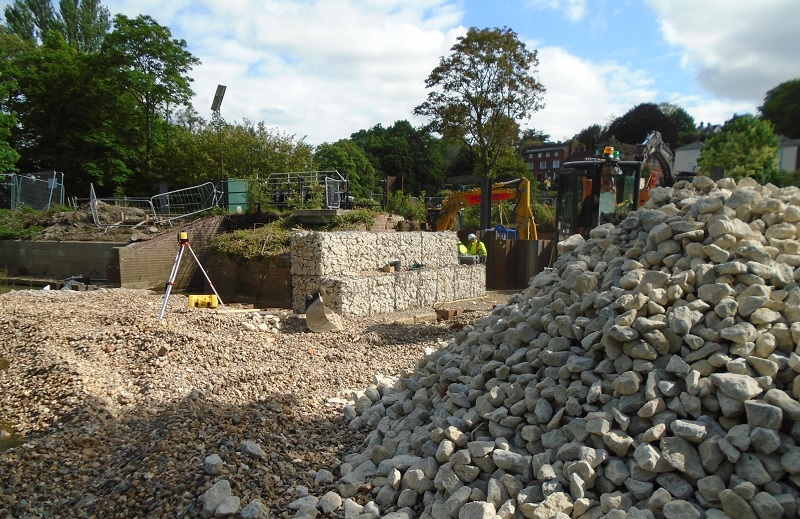 Mackley is making good progress with a scheme of works to reinstate the River Wey Navigation Channel at Millbrook in Guildford – where the existing tumble weir and footbridge collapsed in November 2019.
Working on behalf of a joint venture between the National Trust and Guildford Borough Council, the design and build scheme involves installing a temporary sheet piled cofferdam to form a tumble weir to separate the navigation from the main River Wey – as well as temporary sluice gates for additional protection.
At the outset, the project team installed a temporary portadam to stop the flow of water from the River Wey from entering the working area.
The Environment Agency's Millmead Sluice gates are being used to control the water levels in the River Wey by putting all flows down the main river channel. A gravel access ramp was then created, running from the site compound in the adjacent car park down to the river-bed.
An old collapsed tumble weir and footbridge have been removed from site, and the area just upstream and downstream of the breach has been reinstated after being badly scoured out after the collapse. Three lines of piles have been completed upstream and downstream of where the breach occurred, using a Movax pile driver.
H piles have been installed to protect the temporary structure once the river has been handed back to the National Trust for navigation. The H piles will have Bolina Buoys and canoe floats fitted to keep river boats and canoeists away from the structure when it is in operation. The existing sluice gate structure has been undermined in places and is being monitored on a weekly basis while works are carried out.
Works still to be complete include:
Installing gabion mattresses and baskets to protect the bed of the channel and the existing structures from further scour while the permanent design is carried out
Extending the piling downstream past the existing sluice structure
Installing H piles to support the temporary sluice gate structure
Fabrication of the temporary gates
The temporary gates and A frames are being fabricated and are expected to be ready to install by the end of May. The navigation river is expected to be handed back to National Trust and Guildford Borough Council by mid-June.
---
21 May 2020