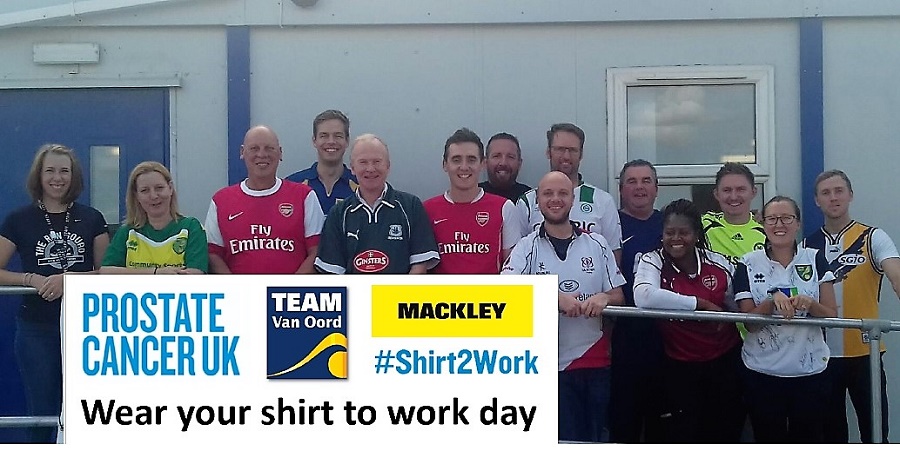 Members of the Shoreham Adur Tidal Walls project team recently donned their sporting club's colours for a day – raising nearly £1,000 for Prostate Cancer UK in the process.
#Shirt2Work Day took place on 31 August – with a number of Mackley employees taking part.
The event is organised to raise money for Prostate Cancer UK – a charity which campaigns for men with prostate cancer to receive the best treatment and care, based on the latest evidence, wherever they live in the UK.
Prostate Cancer UK estimates that deaths from prostate cancer are set to soar over the next decade.
The Shoreham team also got the Environment Agency involved on the day and encouraged suppliers to participate by wearing shirts or holding their own #Shirt2Work Day and contributing to the total raised.
David Knapp, Mackley's Business Development Manager, said:
"Prostate Cancer UK is leading the fight against prostate cancer – the most common cancer in men in the UK.

"It's great to think that through something as simple as wearing a football, cricket or rugby shirt for a day can raise almost £1,000 for such a worthwhile cause."
Mackley is currently working in Shoreham on the final stages of a flood defence scheme which, when complete, will significantly reduce flood risk to more than 2,300 properties in Shoreham and East Lancing. The project is on schedule for completion by the end of 2018.