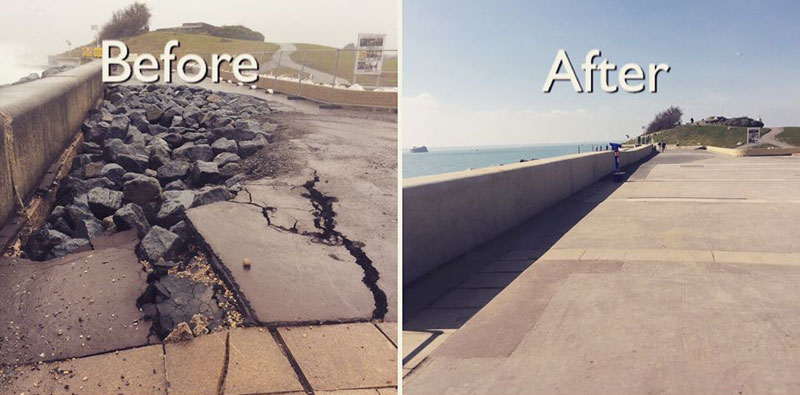 Working as part of Team Van Oord*, Mackley successfully completed repairs to the damaged sea defences at Southsea in the agreed timescale, and the promenade re-opened in time for the Easter weekend.
Councillor Rob New from Portsmouth City Council extended his thanks to "all staff and contractors who have worked extremely hard".
Mackley was called into action to support the Environment Agency when waves crashed over the top of the sea wall and penetrated the foundations, causing the concrete to expand and split the structure.
Around 4,000 tonnes of Granite Rock Armour weighing between three and six tonnes have been buried into the shingle beach to protect the sea wall and reduce the impact of wave energy in future storms and high tides.
The Environment Secretary Elizabeth Truss praised the "rapid action" taken to plug the huge holes in the promenade when she made a site visit on 22 January.
Earlier that month, Councillor Donna Jones, Leader of Portsmouth City Council, wrote to Tony Camilerri, Mackley Managing Director, to "put on record how impressed we have been with the whole response".
Announcing the completion of the repair works, Councillor Rob New said: "I am really pleased that the emergency repair work has been completed on time and the promenade has reopened for the bank holiday weekend.
"My thanks go to all staff and contractors who have worked extremely hard to complete the repair work as soon as possible.
"The Eastern Solent Coastal Partnership (ESCP) are currently engaged in a 10-year project, including developing the necessary sea defences that will reduce the risk of coastal flooding to homes and businesses in the Southsea area.
"This incident has really highlighted our need for the strong coastal defences this work will look to provide."
Team Van Oord*
Team Van Oord is a joint venture partnership between Van Oord, Kier Group, Mackley and Royal HaskoningDHV.
4 April 2016