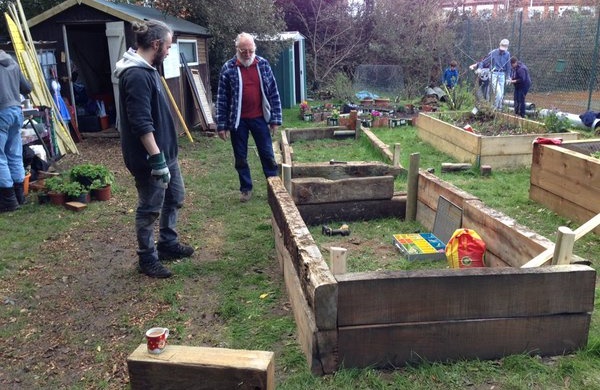 Mackley is supporting a wide range of local sustainability projects by reclaiming and donating disused groynes which are extracted from a number of sea defence schemes.
The groynes are given to the non-profit organisation Sustainable Sussex which provides meaningful real-work experience, education and employment for people who find access to the workplace difficult, including those with learning disabilities and other needs.
Through its projects, Sustainable Sussex seeks to reduce isolation and provide opportunities for interaction with a varied section of society.
To date, the groynes have been used to form the base of a pizza/bread oven at Roots to Growth, a working market garden community project that enables people enjoy the benefits of social and therapeutic horticulture.
They have also been used to create a raised herb garden for the commercial kitchens at Field Place Manor House in Worthing, and to create flower beds as part of the Transition Town Worthing project (see pic).
Previously, recycled timber from Mackley projects was used to create a timber terrace and fenders at Orchard Wharf on the River Thames in London's Docklands.
Dave Knapp, Mackley Business Development Manager, said: "It's great to see these timber groynes being put to such good use.
"As a company, we are committed to sustainable development, and concern for the environment, coupled with the broader issues of social and economic sustainability, are at the core of our business activities."
12 May 2016