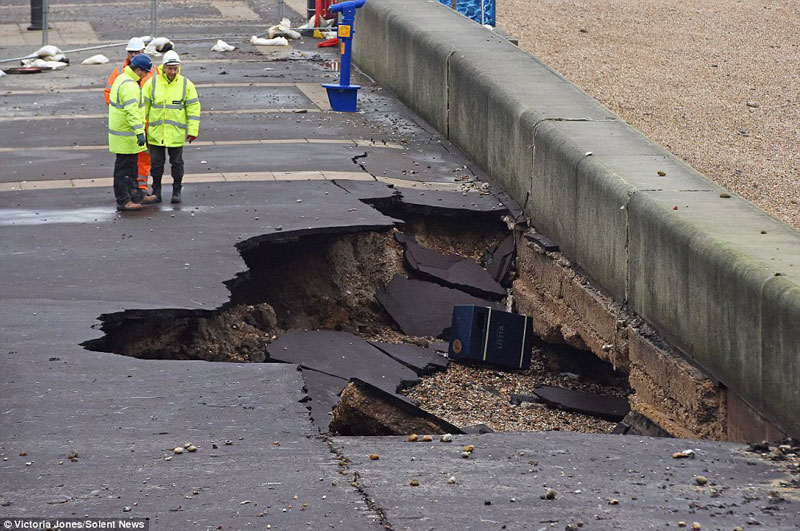 Mackley's efforts to assist the Environment Agency with urgent temporary repairs to mitigate against the risk of flooding in two locations in south east England featured in a BBC South Today news report on 11 January.
The news report, which is available on BBC iPlayer (4mins 4secs into report), covered Mackley's work in Arundel in West Sussex and on the coast at Southsea, Portsmouth (see pic above). Both jobs are being carried out by Mackley, working as part of Team Van Oord*.
At Arundel, Mackley has carried out urgent temporary repairs to prevent flooding to a minimum of 10 properties following the collapse of a privately owned stretch of wall on the River Arun.
Mackley attended the site in the early hours to assess the damage and called on Team Van Oord partners. An incident telecom was then convened with the Environment Agency, West Sussex County Council, Arun District Council and emergency services to explain the situation and outline steps that could be taken.
Mackley then swiftly mobilised plant and staff, working through the night to crane bags of rocks into the river to prevent flooding and reduce the risk of further damage to the wall.
Dave Robinson, from the Environment Agency, explained that a combination of high tides and high river flows has heightened the risk of flooding.
Mackley is continuing to work with relevant organisations to develop further options for a more permanent repair of the flood defence.
The BBC news report also covered work being carried out by Mackley following the collapse of a stretch of the sea wall at Southsea on 28 December 2015.
The breach occurred when waves crashed over the top of the wall and got in the foundations, causing the concrete to expand and split the structure.
The Mackley team is currently making test holes where a new temporary sea defence will be built. Granite Rock Armour weighing between three and six tonne will be buried into the shingle beach to protect the sea wall and reduce the impact of wave energy in future storms and high tides.
Councillor Donna Jones, Leader of Portsmouth City Council, explained to South Today viewers that around 800 tonnes of granite boulders have already been delivered to site, and in total 4,000 tonnes will arrive in the next couple of weeks to prop up the sea wall.
The current work is a temporary solution to deal with the current situation. In the longer term Portsmouth City Council is bidding for funding to develop and deliver a permanent solution.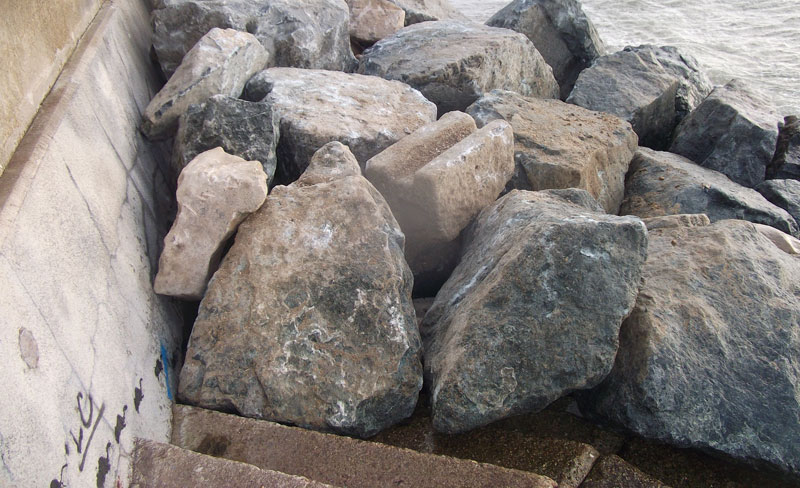 *Team Van Oord
Team Van Oord is a joint venture partnership between Van Oord, Kier Group, Mackley Construction and Royal HaskoningDHV.
Photo credit: Victoria Jones, Solent News (top pic)
12 January 2016