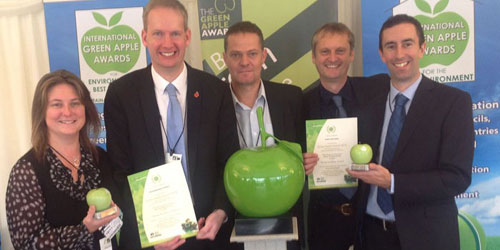 Team Van Oord has been acclaimed a Green World Ambassador as a result of the environmental success of the Medmerry Managed Realignment Scheme*, carried out by Mackley working as part of Team Van Oord.
The Medmerry scheme won a Green Apple Environment Award in November 2014 (see pic above).
At that time the Green Apple Award judges said: "Coastal realignment and sea defences are becoming a sustainable option now, due to rising sea levels and other economic challenges.
"Team Van Oord has unique and innovative approaches to these issues and with this project they have protected 348 properties, sewage works and caravan parks which equates to £90 million of economic benefits, and given green tourism opportunities to grow."
As a result of the Green Apple success, Team Van Oord was invited to have its award-winning submission published in The Green Book, the world's only annual work of reference on environmental best practice which is distributed to environment professionals, universities and libraries around the world.
The winning paper now goes forward for further judging and the possibility of representing the UK in the Brussels-led European Business Awards for the Environment.
The Green Apple Awards are one of the few environmental schemes in Britain that have official status to act as an automatic feeder scheme into the European campaign.
It will also be submitted in the Green World Awards 2016, where the top prize is to host the global presentation ceremony in the winner's homeland.
*Medmerry Managed Realignment Scheme
The scheme, which involved the construction of four miles of new sea walls to reduce the flood risk to hundreds of properties on the West Sussex coast, has been the subject of universal acclaim since it opened in November 2013.
It has created a new wetland for wildlife to flourish and much of the site is now managed by the RSPB as a nature reserve.
In total the Medmerry Managed Realignment Scheme has received no fewer than16 industry awards in the past 18 months.
Of all the accolades it has received to date, perhaps the highlight came in the 2014 British Construction Industry (BCI) Awards. The scheme, which was described by the judging panel as "groundbreaking" and "innovative", received two awards – including the top award of the night, The Prime Minister's Better Public Building Award, which is sponsored by The Cabinet Office.
Team Van Oord
Team Van Oord is a joint venture partnership between Van Oord, Kier Group, Mackley Construction and Royal HaskoningDHV.
17 July 2015