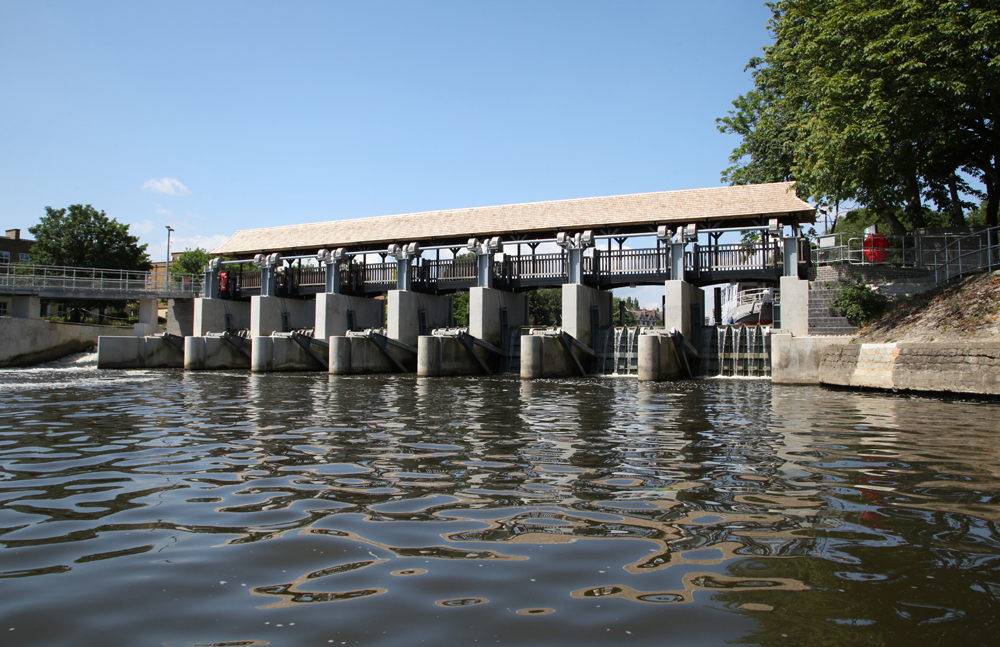 A weir replacement project on the River Thames, carried out by Mackley working as part of Team Van Oord, has been shortlisted for the 2015 Constructing Excellence Awards.
The Constructing Excellence Awards recognise the very best companies, collaborations and projects – particularly those that share best practice and inspire others to adopt new and better ways of working to deliver outstanding results.
The Molesey Weir Refurbishment Project has been shortlisted in the 'Project of the Year' category of the Constructing Excellence in London and the South East Awards.
The Molesey weir complex is located upstream of Hampton Court Palace and helps to control water levels on the Thames between Teddington and Sunbury.
Under a two-year scheme of works the existing 15 "buck gates" have been replaced with seven radial gates, and the canopy has also been replaced. The new weir includes an adjacent fish pass to replace the previous fish trap.
The work was carried out in two phases in 2013 and 2014, with no work during the winter months because the weirs must be fully functional when there are higher flows in order to manage flood risk. The refurbishment works will ensure that the weir will remain in good working order and reduce future maintenance needs.
The winners will be announced at the Constructing Excellence in London and the South East Awards ceremony in London on 2 July.
Footnote:
Team Van Oord is a joint venture partnership between Van Oord, Kier Group, Mackley Construction and Royal HaskoningDHV.
8 May 2015