Mackley has successfully completed beach management works at Hill Head on the Hampshire coast – phase one of a coastal protection project being carried out on behalf of Fareham Borough Council – with minimal disruption to the local community.
The scheme, which was divided into three sections and delivered over five weeks, has re-nourished the beach to historic levels, thereby protecting the sea defences.
Throughout the project, the beach, promenade, beach huts and public facilities remained open, and as such ensuring there was a clear distinction between the work and public areas was a high priority for the project team.
The site was protected by safety fencing and access was via a designated signed and attended haul road, with operatives in attendance when works were in progress.
The first section of work, groyne maintenance between Hill Head and Giblet Ore, involved tidal maintenance work along this frontage, including the removal, disposal and replacement of various timber elements to groynes and full replacement of one derelict groyne.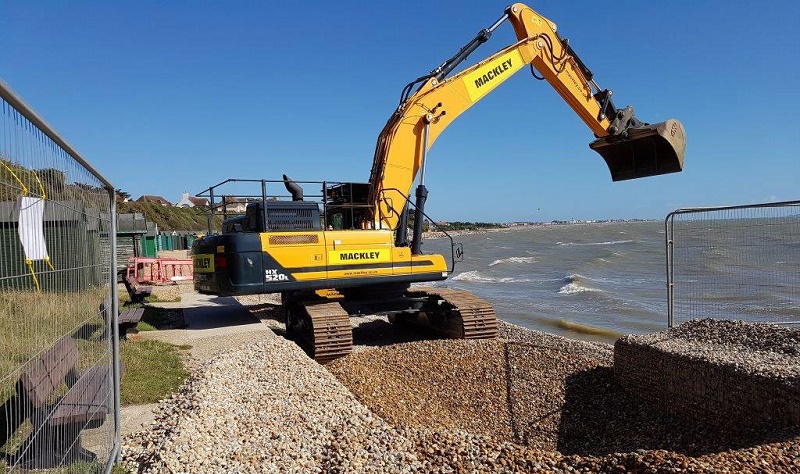 The second phase, at Giblet Ore, saw extra planks fitted to a number of groynes in order to increase the height of the groyne field and provide improved protection of the beach, and consequently the coast.
The final phase of beach management activities saw an access ramp created on the Hill Head frontage to give easy access to the beach for future maintenance of the groynes.
The beach was renourished with material dredged from the Solent and brought ashore at Portsmouth. The haul road used to deliver the beach material crossed a local sailing club car park and the Mackley site team worked with the public to minimise any inconvenience.
One local beach hut owner commented: "I have spoken to some of the hut owners and many of the regular walkers over the past few weeks and most of the comments have been very complimentary about the quality of the workmanship on the groynes… and the professionalism of the contractors in general."
31 January 2017