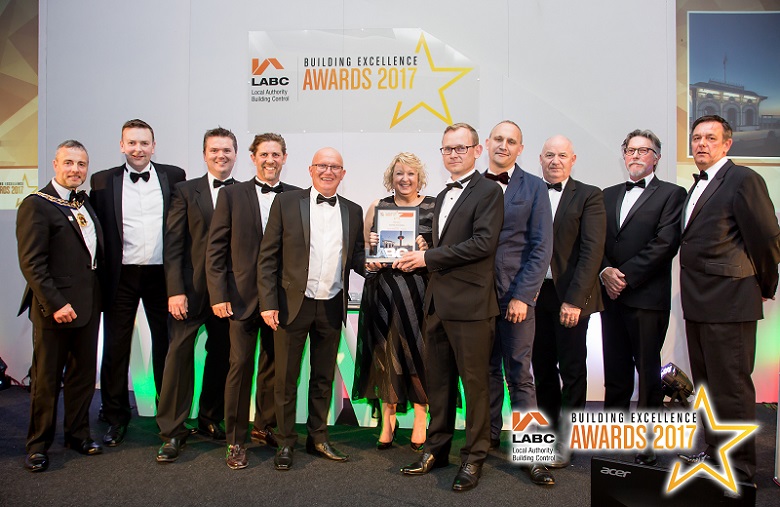 The British Airways i360 was named the Best Public Service Building at last Friday's LABC South East Building Excellence Awards 2017.
The Local Authority Building Control (LABC) represents all local authority building control teams across England and Wales. LABC members work with building owners, homeowners, architects, developers, building contractors and other professionals to ensure buildings meet the standards set by the building regulations.
The LABC awards scheme highlights excellent building practice being carried out by construction professionals, with a focus on those who have overcome technical and practical problems to produce great buildings and good compliance with the building regulations.
The 2017 LABC South East Awards ceremony took place at The Grand in Brighton on 23 June, with more than 400 guests in attendance.
The British Airways i360, for which Mackley was principal contractor, was named winner in the Best Public Service Building category, and will now go on to feature at the LABC Awards Grand Final in London on 10 November.
Paul Everall, Chief Executive of LABC, said:
"Our Building Excellence Awards are an opportunity for the industry to celebrate good practice.

"Our winners demonstrate how positive working relationships with local authority building control teams achieves high quality, sustainable buildings. Our awards are unique because they recognise how this cooperation improves building standards and professionalism across the industry."
At 162 metres high and with an observation pod rising to 138 metres, the British Airways i360 is the tallest observation tower outside London, offering a new perspective on the fun loving seaside city of Brighton.
Sited at the beach end of the historic West Pier on Brighton's seafront, the British Airways i360 has a slender, elegant design, with a futuristic pod allowing 200 visitors at a time to enjoy the surrounding view as it slowly unfolds. The pod is 18 metres in diameter, 10 times the size of a London Eye capsule, with seating and plenty of room to move around.
The project is no stranger to success, having picked up no less than three awards at the 2017 RICS South East Awards last month, including the headline accolade.
David Knapp, Mackley's Business Development Manager, said:
"With Mackley's head office located close to Brighton, to work on a project as iconic and high profile as the British Airways i360 was very exciting and something of which we are very proud.

"We are delighted to see the project now being acclaimed by industry experts, including this latest award handed out by the LABC."
---
26 June 2017