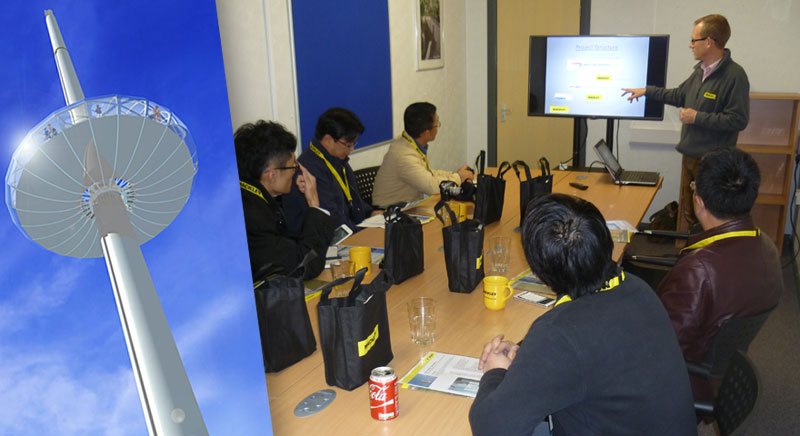 A party of civil engineers who have almost completed a major bridge and tunnelling project in China were in Brighton last week to learn about the world's tallest moving observation tower.
The visit to the British Airways i360 by the delegation of engineers working on the Hong Kong Macau Bridge project was hosted by Mackley on 25 November.
Following a briefing by Dan Argles, project manager, in which outlined the works carried out by Mackley as principal contractor, the delegation toured of the facility and enjoyed the 138 metre flight to its highest point.
The party experienced for themselves the British Airways i360's slender, elegant design, with a futuristic pod allowing 200 visitors at a time to enjoy the surrounding view as it slowly unfolds.
While on a similar visit earlier this year, Sir John Armitt, President of the Institution of Civil Engineers (ICE), described the structure as 'iconic' and 'fascinating'.
The Macau Bridge project (pictured below), on which the Chinese visitors are engaged, comprises a series of bridges and tunnels that will ultimately connect Hong Kong, Macau and Zhuhai, three major conurbations on the Pearl River Delta.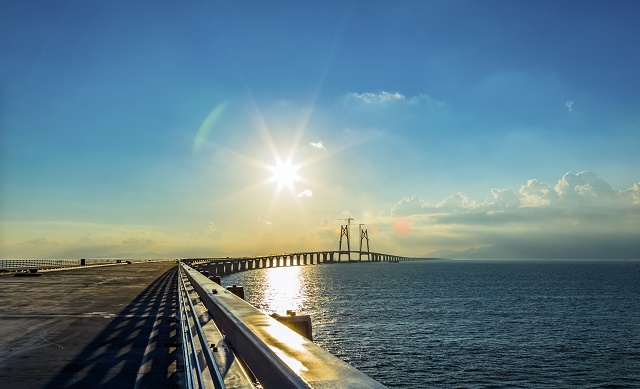 The 50-kilometres link is expected to cost more than $10bn (US) and is set to become a major landmark in the area where it is located. The longest bridge section spans 29.6 kilometres (18.4 miles) and includes three cable-stayed spans between 280 and 460 metres.
Construction got underway December 2009, with the last bridge tower erected in June 2016. The scheme is due to open in December 2017.
David Knapp, Mackley's Business Development Manager, said: "It was a pleasure to host our Chinese counterparts, and we hope they enjoyed their visit to the British Airways i360.
"The project they are responsible for is an enormous civil engineering undertaking – it would be fascinating to have the opportunity to make a reciprocal visit and learn from their experiences in delivering it."
In a letter of thanks written following the visit, Yan Yu from the Hong Kong-Zhuhai-Macau Bridge Authority, said: "On behalf of our delegation, I would like to thank you for your hospitality during our visit in i360 UK.
"For all of our delegation this was the first visit to Brighton and we gained an excellent impression of the project and learned a lot from the experiences you shared. Especially, we were very pleased to meet some of your dedicated staff.
"We found i360 to be an excellent project as a new benchmark in Brighton. We appreciated the introduction and guide at your offices, the site visit to the the world's tallest moving observation tower.
"Please give our regards and appreciation to your staff involved for enabling the visit.
"I hope to welcome you in China for a visit to Hong Kong-Zhuhai-Macau Bridge at any convenient time."
28 November 2016