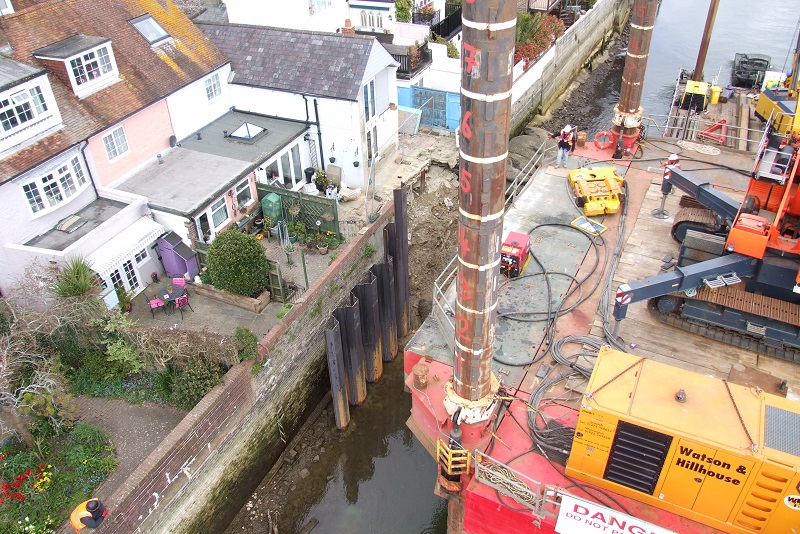 Working on behalf of the Environment Agency, Team Van Oord is making good progress on a scheme to improve flood defences in the West Sussex town of Arundel.
The Arundel tidal defence scheme (ATDS) – which is one of the recommendations from the Lower Tidal River Arun Strategy, which was approved in 2014 – has been accelerated to reduce as quickly as possible the risk of flooding and erosion to properties in Arundel.
The Environment Agency and Team Van Oord are following the government's Covid-19 guidance with regard to critical construction schemes such as those at Arundel, which should continue as long as they can comply with Public Health England advice.
All required measures are in place to allow site staff to operate safely with Public Health England guidance, including maintaining the two metre social distancing while at work.
As part of phase one of the ATDS, construction of new flood defences at River Road and Tarrant Wharf, and work to strengthen the river wall along Fitzalan Road, started on site in November 2019.
A huge jack-up barge has been floated into position and is being used to install a new flood defence wall, made of steel sheet piles, along the River Road stretch of the ATDS.
A jack-up barge is a mobile platform for plant working in water environments. It is fitted with long legs that can be raised and lowered. The legs are lowered to the riverbed to secure it in position, and then raised to allow it to be moved when required.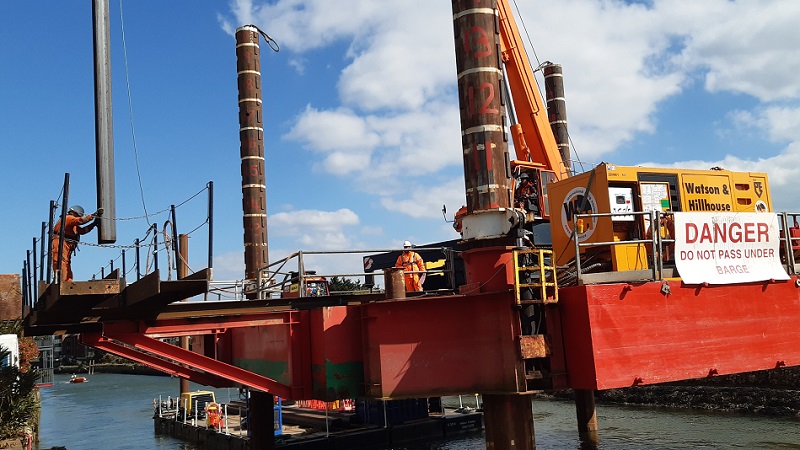 Andy Bosman, Team Van Oord's Project Manager for the scheme, said: "We are progressing well with the piling works at River Road (Z2).
"The scheme design requires us to use two very different types of driving piles, which is very unusual.  We have to 'vibro hammer' for the first 5m, then swap over to an 'air hammer' to drive the remaining 7m.
"Working off a jack up barge is very challenging and restrictive. We start with a work area of just 18m x 18m, and when you place around 100t of materials and equipment on board, there is very little room left for us!
"We have no land access, so everything has to come up by river via two tugs.
"The local residents have been writing to the Environment Agency giving thanks for the efforts the site team is putting in at this difficult time, and are really appreciative of what we are doing for them."
Work at River Road is nearing completion with only a small amount of landscaping still to be carried out, along with the brick cladding to the new floodwall.
The main floodwall will then be reconstructed once the brickwork is complete.
Work at Tarrant Wharf (Z6) has just commenced with upfront works to establish access and edge protection on top of the narrow riverbank.
The original design for the earthworks has been changed to kingpost and timber planking which will make the site more easily accessible for construction. This section of work is due for completion at the end of May.
Work at Fitzalan Road (Z3) will not commence until the end of July due to the discovery of water voles during site surveys, for which mitigation measures have been put in place.
---
20 April 2020